Celebrate With Us On November 17th
Don't miss out on our #WalkToEndLupusNow Virtual Celebration -- no matter where you walked, virtually or at an event, we will be joining together to celebrate an incredible year taking steps to end lupus together. Connect with walkers from across the country, share why you walked, view our Walk Celebration program and have the chance to win exciting prizes.
Join Us! Walk to End Lupus Now - Volunteer Opportunities
The Northeast LFA will be hosting 4 walks in the coming weeks and we need volunteers to help make the day a success!
The Lupus Foundation of America Northeast region is looking for corporate partners to help us reach our mission goals. Your company or organization has many ways your employees can make a difference

in the lives of those living with lupus.


Learn more here!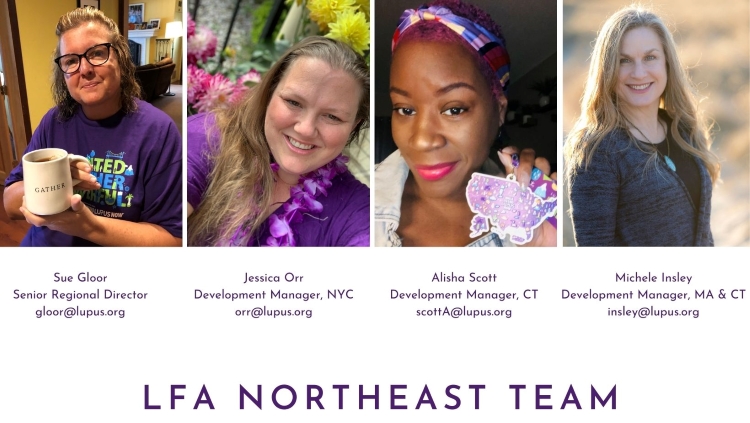 We are pleased to welcome Michele Insley to the LFA Northeast team. In her new responsibilities, Michele will be managing the Walk to End Lupus Now events in Boston and Hartford.  Michele can be reached by email at insley@lupus.org.
Coronavirus and Lupus Information
Please visit this landing page for information on the coronavirus and lupus. It contains information from the Lupus Foundation of America regarding the coronavirus, updated as needed, with additional FAQs from our National Health Educators.
LUPUS@WORK
Nearly 1.5 million Americans live with lupus, a chronic illness, yet those who suffer may not "look sick". Learn the facts about this cruel and mysterious disease and resources for managers, employees, and their family members. We'll share essential tools and information about how you can help the Lupus Foundation of America.
Contact us