Lupus Science & Medicine™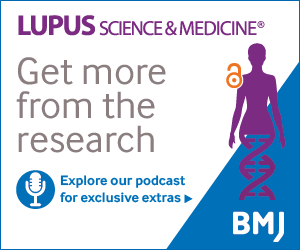 Lupus Science & Medicine™ is a peer-reviewed, open access, online journal that provides a central point for publication of basic, clinical, translational, and epidemiological studies of all aspects of lupus and related diseases.
It is the first lupus-specific open access journal in the world and was developed in response to the need for a barrier-free forum for publication of groundbreaking lupus studies. Lupus Science & Medicine™ (LS&M) is owned by the Lupus Foundation of America and published by BMJ, a respected global provider of evidence-based medical knowledge.
In 2021, LS&M received its first Impact Factor (IF) of 4.235. This is the highest current ranking IF for any lupus-specific journal and is closely ranked among the most prominent journals in rheumatology.
Below, LS&M Co-Editor-in-Chief, Dr. Jill Buyon, discusses what makes this journal so special for lupus researchers and clinicians. 
Submit Your Research Paper to Lupus Science & Medicine
Research on lupus will be considered from fields including, but not limited to, rheumatology, dermatology, nephrology, immunology, pediatrics, cardiology, hepatology, pulmonology, obstetrics and gynecology, and psychiatry. Submissions from groups of investigators engaged in international collaborations are especially encouraged. *Use code LFA04 for 25% off your submission – valid until March 31, 2020*
Submit Now
Growing Popularity of Lupus Science & Medicine
2019 vs. 2018 Growth Statistics
48%
Growth in Online Usage
67%
Increase in Users Accessing Content
823
Number of Online Mentions for Content
Lupus Science & Medicine™ is edited by Jill P. Buyon, Division Director of Rheumatology, Professor of Medicine at New York University School of Medicine; and Ronald F. van Vollenhoven, Professor and Chief, Unit for Clinical Therapy Research, Inflammatory Diseases (ClinTRID), The Karolinska Institute, Stockholm, Sweden. The journal has also assembled a world-class team of associate editors and an editorial board to maintain the journal's high standards, high visibility, and credibility.
In 2021, the Editors are pleased to welcome Dr. Timothy Niewold as an Associate Editor. Dr Niewold is the Judith and Stewart Colton Professor of Medicine at New York University School of Medicine, member of our Medical-Scientific Advisory Council and Director of the Judith and Stewart Colton Center for Autoimmunity, whose mission is to facilitate discovery of the causes of autoimmune disorders and develop new diagnostics and drugs. 
Dr. Niewold joins us as Lindsey Criswell, MD, MPH, DSc steps down from the journal and into her new position as Director of the National Institute of Arthritis and Musculoskeletal and Skin Disease (NIAMS). Dr. Criswell served as AE for LS&M since the conception for the journal in 2013. We cannot thank her and the other AE's enough for their contributions to the journal.
Lupus Science & Medicine™ complements the Lupus Foundation of America's national research program, which pursues an aggressive agenda to tackle the biggest challenges in lupus and find answers to the most important questions.