Blog
December 19, 2019
ALPHA Project: Tackling Lupus Clinical Care Barriers
This blog is third in a four-part series that dives into the key takeaways from the Addressing Lupus Pillars for Health Advancement (ALPHA) Project, an initiative with the goal of bringing together international lupus experts to develop and implement strategies to address the critical barriers toward improving outcomes in lupus.
---
There are many challenges when it comes to diagnosing and treating lupus. Lupus is an autoimmune disease that has no one test for diagnosis, and no set criteria of signs and symptoms that all medical professionals agree on. Compared to many other autoimmune diseases, the advancement of lupus diagnosis and treatment is far behind. Currently, there is only one FDA approved drug to treat lupus - Benlysta® (belimumab), while other drugs used for treatment are used "off label" and are not approved by the FDA specifically for lupus. This can lead to variable health outcomes, since these drugs have never been fully tested to treat people with lupus. When using off-label treatments, it can also be difficult to determine which symptoms are lupus-related or may be a result of medication side effects. These factors are challenging for providers who treat people with lupus, sometimes leaving individuals feeling misunderstood and frustrated.
In our last blog post, we discussed barriers identified through the ALPHA Project for lupus drug development – one of which is the heterogeneity of the disease. The heterogeneity of lupus, or the different signs and symptoms of lupus for each person, not only has an effect on drug development, but clinical care as well. 
"The clinical presentation of lupus is remarkably diverse and symptoms often occur over time rather than all at once, making the diagnosis even more challenging. The key to diagnosing lupus is having a high suspicion for it, especially in at-risk patients who complain of health issues that at first may seem unrelated," shared ALPHA Global Advisory Committee member Brad Rovin, MD, Professor of Medicine and Pathology, Ohio State University and Nephrologist, The Ohio State University Wexner Medical Center. "The issue with diagnosing lupus can be addressed by educating health care providers and the public about the disease and its symptoms, as was shown by the results of the ALPHA project study.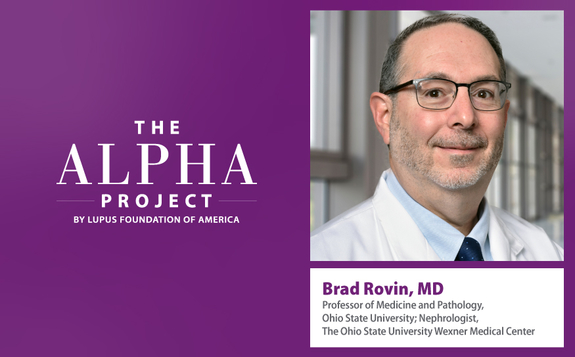 "Once lupus is considered for a patient, diagnostic biomarkers, another unmet need identified by the ALPHA project can be applied appropriately, improving the accuracy of the diagnostic test. By bringing these clinical care barriers to light, the ALPHA project has provided the lupus community with a clear pathway of next steps to improve and accelerate the diagnosis of lupus, which should translate to better outcomes for our patients with the disease."
In addition to the heterogeneity of lupus,  other top barriers to lupus clinical care include:
Lack of diagnostic tools 
Without clear tools for diagnosing lupus, it is difficult to identify and treat the disease. These tools may include identified biomarkers, or substances found in the body that can help detect lupus presence or risk. With the identification of lupus-specific biomarkers, there may be quicker time to diagnosis and therefore more timely treatment. This may also help us to predict who might develop lupus, oncoming flares, or a person's prognosis of their disease may progress over time. 
Limited awareness and understanding of lupus 
Because lupus can affect so many different organs, a wide range of signs and symptoms can occur throughout the course of the disease. This may lead an individual to see a variety of providers – from their family physician or nurse to a specialist, such as a dermatologist or nephrologist. Knowledge of lupus, especially when assessing symptoms, is critical for providers to make a timely diagnosis and begin appropriate treatment. The community of patients, researchers and regulatory bodies also needs a better understanding of how lupus can impact different groups of people, such as children or teens, among other different demographic and socioeconomic groups. 
Treatment Adherence
Treating lupus is a lifelong process that requires ongoing planning and communication between people with lupus and their providers. Adhering to lupus treatments are associated with better health outcomes, so it is important to understand the reasons why individuals may not stick to their treatment plans. Some of the current treatments used for lupus, including steroids and immunosuppressive treatments, have been linked to toxicity and long-term damage in the body, highlighting the need for providers to better understand and communicate with their patients about a treatment's benefits and risks. 
The ALPHA team is continuing to share key findings from the project and mobilizing the worldwide lupus community. An international meeting with the ALPHA Global Advisory Committee of lupus experts overseeing the project has been set for January 2020 to develop a roadmap of specific recommendations to address these top challenges. For more information, please visit lupus.org/alpha.