Blog
October 23, 2019
ALPHA Project: Addressing Top Drug Development Barriers
This blog is the second in a four-part series that dives into the key takeaways from the Addressing Lupus Pillars for Health Advancement (ALPHA) Project, an initiative with the goal of bringing together international lupus experts to develop and implement strategies to address the critical barriers toward improving outcomes in lupus.
---
Treating lupus is a lifelong process, and Benlysta® (belimumab) is the only drug specifically developed and approved to treat lupus. As a result, people with lupus often use many different types of treatments that are not approved for lupus. This "off label" use can make it difficult to get medications covered by insurance, and there may also be side effects from these treatments. The need for better, faster research to develop treatments specifically for lupus is critical to improve quality of life today while working toward a cure.
One of the challenges around developing treatments for lupus is that it is a heterogeneous disease, meaning that the signs and symptoms of lupus may look different for each person, a topic discussed in our last blog post by one of the lead researchers, Kenneth Getz. This makes lupus very difficult to diagnose and treat. Lupus also likely requires different treatments to address the diverse symptoms of the disease.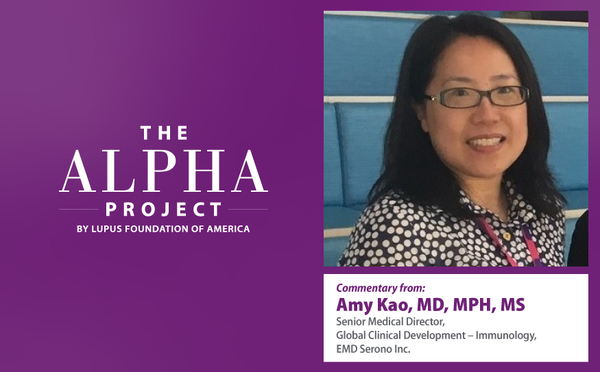 "Drug development in lupus is a challenging undertaking, and as a result, patients with lupus are faced with high unmet medical needs and limited treatment options. Driven by experts from across the globe, the ALPHA Project Team is working together to find and accelerate solutions that break barriers for successful lupus drug development and make a difference for patients," shared Global Advisory Committee member Amy Kao, MD, MPH, MS, Senior Medical Director, Global Clinical Development – Immunology, EMD Serono Research and Development Institute, Inc. (a business of Merck KGaA, Darmstadt, Germany).
The Lupus Foundation of America (LFA), researchers at the Center for the Study of Drug Development at Tufts University School of Medicine (Tufts CSDD) and a global committee of lupus experts collaborated to launch the ALPHA Project in 2018 to address the need for new treatments, as well as care and access challenges faced by the lupus community. The goal of ALPHA is to address the top issues in lupus research and care and create a roadmap of solutions for these problems. 
In the first phase of ALPHA, the international lupus community identified and prioritized top barriers in drug development, summarized below:
Lack of biomarkers to predict response to drug in clinical trials.
Biomarkers are substances found in the body that can indicate presence of a disease. The lack of lupus-specific biomarkers can limit providers' ability to not only detect and manage the disease, but know which treatments will work in which people. This would be especially helpful in clinical trials testing new treatments. 
Lack of user-friendly, sensitive and accurate outcome measures.
Outcome measures are tools used to assess a person's current health status and disease activity. In clinical trials, these are necessary to determine how well treatments are working. Outcome measures can come from patients, clinicians, observations or performance tests. However, when these tools are not measuring what they are intended to, or not measuring consistently, it makes it difficult to know when treatments are working. 
 
Flawed clinical trial design.
Clinical trials are necessary to develop new treatments. In lupus, many clinical trials have been flawed by too few study participants and based on the heterogeneity of the disease. There must be a clearer set of signs and symptoms to select people most likely to benefit from a given treatment. Additionally, there are challenges with including people with all types and severity of lupus, as well as minorities and children. 
The LFA is actively working with the lupus community, including a Global Advisory Committee of lupus experts who guide and oversee the project, health care and research professionals, patient advocates, regulators, and therapy developers to advance drug development in lupus. For more information, please visit lupus.org/alpha.