Blog
April 29, 2020
ALPHA Project: Addressing Challenges in Access to Care
This blog is fourth in a four-part series that dives into the key takeaways from the Addressing Lupus Pillars for Health Advancement (ALPHA) Project, an initiative with the goal of bringing together international lupus experts to develop and implement strategies to address the critical barriers toward improving outcomes in lupus.
---
Lupus is difficult to diagnose and treat, particularly because the signs and symptoms of lupus look different in each person. Our previous blog posts have covered how this creates a challenge in drug development and clinical care, which can trickle down and create a challenge for people with lupus trying to access care and treatments for their disease. Access to care is important for promoting and maintaining one's health, as well as preventing or reducing long term disability from diseases, such as lupus, and achieving health equity – the opportunity for everyone to be as healthy as possible.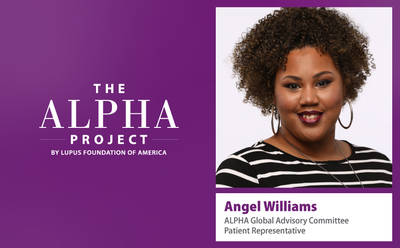 Important components of access to care include coverage (the ability to get into the health care system, usually through insurance), services (including prevention screenings or treatment you may need), and timeliness of care (getting care when you need it). The Addressing Lupus Pillars for Health Advancement (ALPHA) Project, spearheaded by the Lupus Foundation of America, recognizes that access to care is just as important for improving health outcomes as developing new treatments, having higher quality clinical tests or experienced providers to diagnose or monitor lupus – without appropriate access to these services, it can be hard or impossible to benefit from advances in the lupus field. 
"Access to care is the determining factor in the state of our health. The ability to reach my physicians in a timely manner and receive my medications promptly, without issue, are the reasons I am doing as well as I am today," shared Angel Williams, a patient representative of the ALPHA Global Advisory Committee (GAC). "When I struggled with insurance coverage in the past, my health quickly declined as a result of not having the adequate access of care.  As access to care improves, I believe we will see a fast, positive impact on the lupus community, lowering the number of lupus patients with high disease activity and a seeing a significant decrease in severe organ involvement."
Top barriers to access to care identified through the ALPHA Project include:
Conditions in which we live in as a barrier to lupus management
Social determinants of health are conditions in which people are born, grow, live, work and age. We know differences in health exist in communities with lower income, less stable housing or food insecurities, and the social and physical environment plays a direct role in your health and ability to manage lupus. Often it can be challenging to access needed care and treatments, whether that might be seeing a specialist, such as a rheumatologist, getting transportation to and from appointments, or having a pharmacy close by to pick up medications.
Lack of access to providers familiar with lupus
Because lupus signs and symptoms differ between individuals, people often see a variety of providers to address their symptoms. This could be a nurse, primary care doctor, rheumatologist, or other specialist. Health care providers who can recognize and understand how to treat lupus are important for reducing time to diagnosis and beginning treatment earlier. In areas that may be further from a large city or major health system, getting to the right provider – or even having enough providers available – can be challenging. The lupus community has to remain aware of special populations who may face these barriers and provide solutions to help bridge gaps in care. 
Lack of access to medications 
There is currently only one FDA-approved treatment designed specifically for lupus – Benlysta (belimumab). Other approved drugs for use in lupus, as well as in other diseases, include aspirin, corticosteroids, and antimalarials such as Plaquenil (hydroxychloroqine). Often, people with lupus may be on other "off-label" treatments which are not officially approved for lupus but may have scientific evidence to support their use. Depending on insurance providers, there may be barriers to accessing and paying for off-label medications, which can cause delays in treatment or higher out-of-pocket costs for individuals. Focusing on educating insurers and government regulators on lupus treatment options, whether existing or as they become available, is essential to ensure people with lupus have access to medications needed to manage their disease in a timely manner.
Following an in-person GAC meeting at the LFA national office, the ALPHA Project team is developing an action plan to address these barriers to improve outcomes for people living with lupus. For more information about the ALPHA Project, please visit lupus.org/ALPHA.