Providing Answers, Support and Hope in the Southeastern US
This is my chapter |
Reset
The life of Michael Barlin — late son of Judy & Wayne Barlin — was celebrated at a Miami reception launching the Michael Jon Barlin Scholarship Fund, to benefit college students who are affected by Lupus. Mike lost his courageous 10-year battle with Lupus on August 16, 2006, the young age of 24. The Lupus Foundation of America, Florida Region, is privileged to offer an annual $5,000 scholarship to support the educational expenses of a Florida resident diagnosed with lupus. The scholarship is in memory of Michael Jon Barlin, who died from complications of lupus at age twenty-four. He struggled with the debilitating effects of the disease for ten years, but during that time managed to obtain a BS degree with honors from the University of Miami. Michael touched many people during his short life and those close to him and his family have established this scholarship fund to assist college students bearing the extra burden of this disease. 
General Guidelines
Applicant must provide proof of PRIMARY residency in the State of Florida.
Applicant must already be attending a four-year college or university and provide confirmation of matriculation from the college.  MUST BE AN UNDERGRADUATE STUDENT.
Applicant must present a letter from his/her physician confirming a diagnosis of systemic lupus erythematosus.
Applicant must be working toward a degree with a minimum of nine credits per semester and have a minimum GPA of 2.5.
Applicant must submit a one-page statement of how lupus has affected his/her college experience.
The scholarship will be made on an annual basis to one recipient. Previous recipients may not reapply.
The scholarship will be sent directly to the college or university and may be used for tuition, room and board, books and fees.
Deadline is May 31 of each year.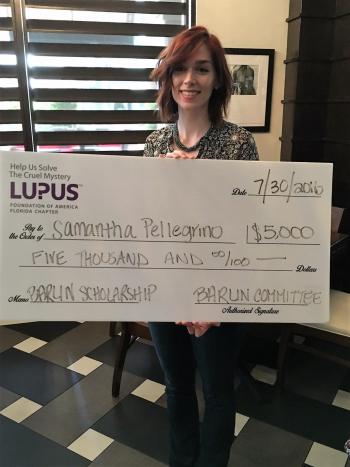 Meet past recipients:
2020/21 Jennifer Gomez
2019  Kwesi Kwapong 
2018 Christina Caruana
2017 Davis Vertin
2016 Samantha Pellegrino
2015 Devin Cowan
2014 Lorraine Freytes
2013  Allison Kalinsky
2012 Sophia Masere
2011 Vanessa Cardona
2010 Katy Haddon
2009 Samantha McNeil
2008 Jonathan Ramirez