Personal Stories
Gaining More by Giving Back
To'Ccorra Hill may host diva events to benefit lupus, but she is no diva. She is committed to giving back to the community and supporting people who are suffering from this devastating disease.
When To'Ccorra was diagnosed with lupus in 2015, she didn't tell anyone outside of close family and friends because she didn't want people to feel sorry for her.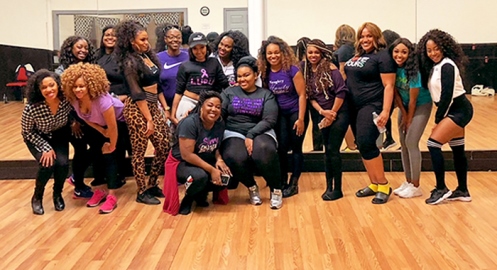 Doctors originally told her that she had discoid lupus as she had developed round dark spots all over her body. However, not long after her diagnosis, she began having breathing problems and doctors found blood clots in her lungs, then her joints and muscles began to ache, and she had to be hospitalized.
Her rheumatologist then added systemic lupus to her diagnosis and she was put on blood thinners. The problems continued to proliferate as doctors informed her that she had early onset for heart failure.
To'Ccorra now takes sleeping pills, muscle relaxers, blood thinners, anti-depressants and several other medications. She says that fatigue is her biggest struggle right now but her strong spiritual faith keeps her going.
Depression also has been a struggle in the past, but To'Ccorra says that lupus has actually helped her manage depression.
"I have to stay upbeat and positive since my mood has an impact on this illness, and my main motivation is to stay out of the ER," says To'Ccorra. She has learned to 'snitch on herself' and no longer suffers in silence since she feels that having a support system is critical for minimizing depression. She also started journaling last summer to help keep her spirits high.
But nothing brings her more joy than giving back by organizing fundraisers for lupus research.
"I am making a difference by using my skills to do something that means a lot to me," says To'Ccorra. "With the help of family and friends, I know that my purpose in life is to bring us together to do something good and give back to this wonderful community in any way we can."
To'Ccorra is a professional party planner and as such, she has organized several events to raise funds for lupus. Over the past couple years, she has raised nearly $2,500 through various events – including hosting a dance class, game night and brunch. In addition, she has received numerous donations from local community businesses who support her events and donate a portion of their sales to lupus research.
Make Your Mark in the Fight Against Lupus
Get Started
To'Ccorra has big plans for future fundraising initiatives, but she also wants to encourage other people who want to support the lupus community to host their own events and activities through Make Your Mark™ during Lupus Awareness Month. She offers the following suggestions to get started:
Identify a unique idea or concept to serve as the centerpiece of your fundraising campaign, and use Google and Pinterest to help you with brainstorming the possibilities.
Talk to family and friends and let them know what you are planning as they may have suggestions on potential sponsors, partners or opportunities to pursue.
Reach out to local businesses to ask if they can donate space, items for giveaways, or help promote your event.
Enlist the support of family and friends to help you plan and prepare for the event, and assign a role to everyone who is willing and able to help.
Ask everyone to help you promote your event and share it with their friends, make sure that the donation link is easy to locate so that anyone who cannot attend can at least donate. After the event, send a follow-up thank you and provide the link to donate again for anyone who did not donate at the event, and ask them to forward it to their friends as well.
To'Ccorra also believes that it is important to build on progress, once the relationships and plans are in place then it is easier to organize additional events and set higher fundraising goals.
Learn more about Make Your Mark™ fundraising program.
What is your story?
Do you have a story to tell of living with lupus or caring for someone with lupus?
Tell Your Story