News
September 20, 2023
Lupus Foundation of America Launches Mobile App for Lupus Self-Management Program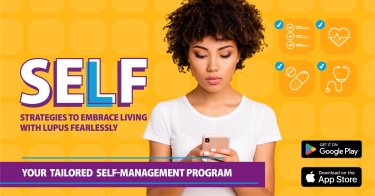 The Lupus Foundation of America (LFA) announces the launch of a mobile app for its Strategies to Embrace Living with Lupus Fearlessly (SELF) program. The SELF program is designed to help people living with lupus better manage symptoms, stress, medications and working with their health care team. The SELF mobile app makes the program's key features, including symptom and medication trackers, a journal, and a library of skill-building activities, even more accessible and easy to use on the go. This on-the-go mobility makes it easy for users to track information in the moment or have everything in the palm of their hand when at their doctor's appointments. The SELF app also includes enhanced features such as:
Symptom tracker and journal are now linked for a complete view of your lupus experiences
Medication tracker uses auto-complete to help with spelling difficult medication names and suggesting common doses
A planning tool for you to decide when and how you will take your medication
Easier access to previous journal entries
The SELF app is for newly diagnosed individuals who need help getting started managing this complex disease, people with lupus who want to feel more in control of their disease, and people with lupus who feel they manage their disease well but perhaps want a little help dealing with some of the ups and downs of lupus.
"I've been using SELF for quite some time, and really enjoy so many facets of the program including the daily texts to my phone," says SELF user, Jill Nelson, diagnosed with lupus in 2020. "I feel empowered knowing the Lupus Foundation of America is there for me, readily available to lend support and resources, and I'm excited to see how the SELF app expands this positive experience."
The SELF program is the first self-management program tailored to the specific needs of a person living with lupus, and it was developed by the LFA with guidance from people with lupus, their doctors, behavior change scientists and other experts. SELF tailors a user's experience based on their interests and needs, and is designed to be used at one's own pace.
The SELF app is free and available to people with lupus in the United States, ages 18 years and over. It was developed with support from the Centers for Disease Control and Prevention and AstraZeneca. The app is now available for download via Google Play and the Apple App Store. Learn more about SELF and how to participate at Lupus.org/SELF.