News
November 12, 2023
Lupus Foundation of America Awards Scientists for Notable Contributions to Lupus Research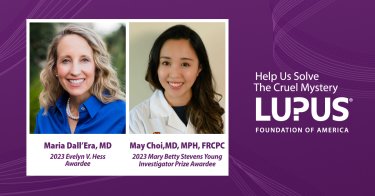 The Lupus Foundation of America (LFA) is pleased to recognize two leading lupus researchers at the 2023 Evelyn V. Hess Reception. This year, Maria Dall'Era, MD, University of California, San Francisco will be awarded the 2023 Evelyn V. Hess Award and May Choi, MD, MPH, FRCPC, University of Calgary will be awarded the 2023 Mary Betty Stevens Young Investigator Prize.
Recognizing and Honoring Dr. Dall'Era for Outstanding Work and Impact in the Advancement of Lupus Research
The Evelyn V. Hess Award was established in 2005 and is awarded annually to recognize the exceptional contributions of a clinical or basic science researcher whose body of work has advanced the understanding of the science of lupus treatment.
Dr. Maria Dall'Era is the Jean S. Engleman Distinguished Professor and Chief of the Division of Rheumatology at the University of California, San Francisco. Dr. Dall'Era is a practicing rheumatologist and clinical researcher who leads an integrated research program focused on three closely related goals: improving understanding of the biology, epidemiology, outcomes, and health disparities of systemic lupus erythematosus (SLE); developing novel approaches to the treatment of SLE and lupus nephritis; and identifying biomarkers that predict treatment response and long-term outcome in patients with lupus nephritis.
She is the principal investigator of the CDC-funded California Lupus Epidemiology Study, a racially and ethnically diverse longitudinal cohort of patients with SLE in the San Francisco Bay Area and is the protocol chair of an Immune Tolerance Network- funded trial of a novel agent for the treatment of lupus nephritis. She is the current chair of LuCIN, a network of academic institutions collaborating in the conduct of lupus clinical trials.
"I am extremely humbled and honored to receive the prestigious Evelyn V. Hess Award from the Lupus Foundation of America in honor of the great Dr. Evelyn Hess, a trailblazing researcher, mentor, and leader in the rheumatology community," shared Dr. Dall'Era. "As a practicing rheumatologist, I am passionate about lupus research because I see firsthand how this disease disproportionately impacts historically vulnerable communities. Despite decades of research, we have only three new approved therapies for lupus. We can and must do better for our patients living with lupus. Working together as a lupus community, we will be able to make great strides. The future is bright!"
Recognizing and Honoring Dr. Choi for Exceptional Contributions to Lupus Research
Established in 2009, the annual Mary Betty Stevens Young Investigator Prize recognizes the remarkable accomplishments of an investigator in the early stages of their lupus career and memorializes Dr. Stevens' outstanding contributions to lupus research throughout her career.
Dr. May Choi is a rheumatologist and clinician scientist who started on faculty at the Cumming School of Medicine, University of Calgary in 2020, and is a Member of the McCaig Institute for Bone and Joint Health. As an early career investigator, her research is focused on biomarker discovery and validation for prediction of clinical outcomes in autoimmune rheumatic diseases, and the prevention of autoimmune disease development and disease-related complications. She leads a research laboratory (CatalystDx) and biobank for local, national and international collaborators.
Dr. Choi was funded by several career development awards including the Lupus Foundation of America Gary S. Gilkeson Career Development Award, during which she was supervised by her mentor, Dr. Karen Costenbader. Dr. Choi is also the Associate Director of MitogenDx Laboratory for novel autoantibody and biomarker testing for autoimmune diseases and the Associate Director of Translation Research for the University of Calgary Lupus Centre of Excellence.
"I am honored to receive the Mary Betty Stevens Award from the Lupus Foundation of America, as I aspire to become as exceptional of a physician, teacher, leader and lupus researcher as she was. This is a particularly meaningful award because many of my research projects build upon the foundations laid by Dr. Stevens during her career as a young investigator more than 60 years ago," said Dr. Choi. "It is important that my research, such as finding new biomarkers to help the diagnosis and treatment of lupus, and practice as a rheumatologist enables those living with lupus to not be defined by their disease, but rather as something that we will work together to overcome so they can achieve their personal and professional ambitions."
Learn more about the Evelyn V. Hess Award, the Mary Betty Stevens Young Investigator Prize and our 2023 recipients.