News
October 31, 2023
Lupus Foundation of America Awards Grants to Two Early Career Scientists, Funding Studies in Pregnancy and Personalized Medicine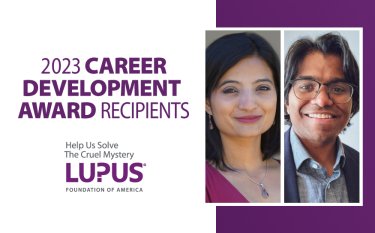 The Lupus Foundation of America is pleased to announce the grantees of the 2023 Gary S. Gilkeson Career Development Award (CDA). The two-year grant supports early career scientists and their crucial lupus research alongside experienced mentors who will guide them and help continue to build their future in the lupus research field.
The 2023 recipients are:
Rashmi Dhital, MD, University of California San Diego
Siva Kasinathan, MD, PhD, Stanford University School of Medicine
"The Lupus Foundation of America's Gary S. Gilkeson Career Development Award not only provides funding that is often difficult to obtain for early career scientists, but the mentorship that is so important in establishing a strong career in lupus research. We continue to see recipients of this grant make incredible discoveries with their research and become important bright minds that are growing the field of scientists focused on lupus research so that we can better understand the disease, support our patients and continue our ultimate mission towards a cure," shared Karen H. Costenbader, MD, MPH, Chair of the Lupus Foundation of America's Medical-Scientific Advisory Council.
One of this year's awardees will focus their research on improving health outcomes faced by women with lupus, and the other awardee will study how gene changes may lead to approaches for personalized medicine, an emerging approach for disease treatment and prevention that uses individual differences to identify patient subgroups that can benefit from specific treatments. Each grantee works with an established physician scientist as a mentor.
"This is the most critical time in a young physician scientist's career, and without awards like the Lupus Foundation of America's Gary S. Gilkeson Career Development Award, many trainees would not have the support they need," shared Dr. PJ Utz, Professor of Immunology & Rheumatology, Stanford University School of Medicine, one of this year's grantee mentors. "We need to grow the lupus research field, and this grant provides an incredible opportunity for outstanding young, talented minds to dedicate themselves to finding the next breakthrough in lupus."
The 2023 Career Development Award recipients strive to advance and shed light on lupus research by studying the following important areas:
Rashmi Dhital will evaluate how heart and blood vessel abnormalities during childbirth impact pregnancy outcomes in women with and without lupus. She will also determine if racial differences impact these outcomes.
Siva Kasinathan will study gene changes in T-cells and compare T-cell gene changes from people with lupus and healthy individuals to see if there is a connection between uninherited changes in genes and lupus. This research could help develop personalized tests and treatments for lupus.
Each research study conducted by the grantees will advance the Foundation's commitment to research, which also includes the commitment to uncovering and addressing health disparities through the Lupus AIM (Addressing health Inequities in Minorities) program.
Learn more about the Gary S. Gilkeson Career Development Award and its 2023 grantees, here.