Health Disparities in Lupus
Advancing Health Equity in Lupus
Identifying and addressing disparities among people living with lupus ensures communities with the highest burden of disease, like racial/ethnic minorities, receive equitable opportunities for experiencing optimal health outcomes.
Read the Executive Summary for a comprehensive framework of health disparities
Read Now
LFA's Commitment to Addressing Health Disparities
A health disparity is a health difference that adversely affects socially disadvantaged populations in the areas of incidence and/or prevalence of disease as well as premature or excessive mortality. 
The Lupus Foundation of America recognizes that structural, social and individual determinants of health contribute to health disparities in lupus. Recent scientific advances and an emerging public health focus on health disparities provide a renewed opportunity to address barriers to achieving the best possible health for everyone, especially historically marginalized communities.  
In response to social unrest and health disparities realized as a result of the COVID-19 pandemic in 2020, we assembled a panel of lupus and health disparity experts and convened a series of meetings to better understand barriers and facilitators for reducing disparities amongst minorities with lupus. 
Results of our discussions and literature review are presented as an executive summary. This summary provides a comprehensive overview of key findings and strategies to reduce lupus-related health disparities. 
While studies referenced throughout specifically denote the study of patients with systemic lupus erythematosus, we have chosen the term lupus to refer to systemic lupus erythematosus (SLE) for the sake of brevity. 
Black/African Americans, Hispanic/Latinos, Native American/Alaska Native and Asian American/Pacific Islanders are disproportionately impacted by lupus 
The Contribution of Social Determinants to Lupus Health Disparities 
Social determinants of health are well-documented contributing factors to racial/ethnic disparities in lupus. The LFA recognizes the Department of Health and Human Services and the Office of Disease Prevention and Health Promotion standardized categories of social determinants of:
Social and Community Context, 
Economic Stability, 
Education Access and Quality, 
Healthcare Access and Quality, and 
Neighborhood and Built Environment. 
We understand that these categories may not be all-inclusive of social determinants that people with lupus may experience.
3x more likely
SLE prevalence is 3 times higher in Black/African American and Native American compared to White people1
2x higher
SLE prevalence is 2 times higher in Hispanic patients compared to White people1
9x greater
Prognosis for African American patients with SLE is significantly worse; Progression to kidney failure is 9 times greater compared to white patients2
Disparities in Lupus
Black/African American, Native American/Alaska Native,  and Asian Americans make up about  41% of estimated SLE cases in the US and of all estimated cases 21% of patients are Hispanic1.
Lupus is a top 10 cause of death in Black/African American and Hispanic women ages 15-443.
Black/African American women with lupus die up to 20 years earlier than non-Hispanic white women with lupus4 5.
Death in Hispanic and Asian women with lupus is 4-6 times higher than expected in the general population of people with lupus4 6.
Lupus nephritis and cardiovascular disease are higher in all marginalized racial and ethnic groups compared to white patients and are amongst the top leading causes of death in minority groups living with lupus6-8.
Lupus mortality is highest in the U.S. South, and it is associated with poverty, Black/African American race, and Hispanic/Latino ethnicity9-12.
A Conceptual Framework for Understanding Determinants of Health
Upstream factors are structural determinants such as social and political policies, income, racism and social exclusion and isolation.
Midstream factors on social determinants such as access to quality education, healthcare, economic stability, employment and livable housing conditions.
Downstream factors are behaviors and genetics/epigenetics that are likely impacted by upstream determinants of health.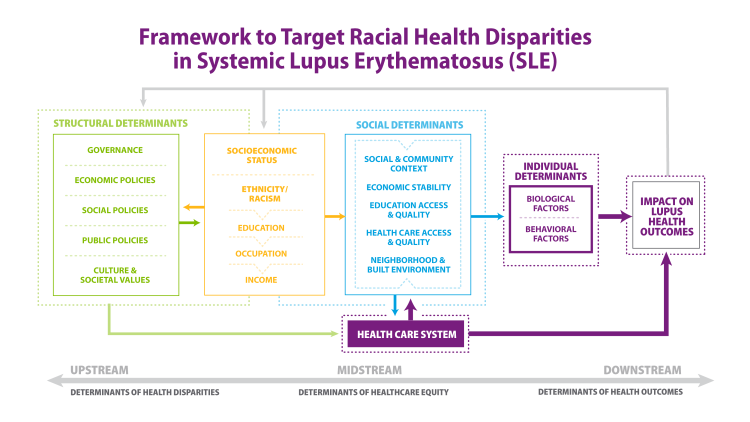 Social and Economic Factors Affecting Disparities
Differences in socioeconomic status and economic stability can disproportionately affect racial/ethnic groups that have been marginalized. These effects can be even more compounded for people who live with lupus. 
In a study conducted in 2014 by Drenkard et al., Black/African American people living with lupus were 2 times more likely to lose their jobs after lupus diagnosis compared to White people with lupus13.
This suggests that people with more severe disease activity (including disease flares) are more likely to become unemployed or under-employed.
Low-income individuals and patients on Medicaid must travel significantly farther than patients who are not low income to see a healthcare professional for lupus management14 15
Reliance on caregivers, meeting financial priorities, and pain/physical limitations were concerns about travel burden in marginalized racial or ethnic groups15
How the Healthcare System Affects Disparities
One key factor contributing to poorer outcomes for people living with lupus is both a lack of formal education and patient-provider health literacy related to lupus risk factors, manifestations, and outcomes. A lack of health literacy may also impact the ability to proactively seek care to manage lupus. People living with lupus who have a lower level of education may not know what resources to use to find more information about lupus.
African American patients perceived hurried communication with providers and lower self-efficacy in their role in the treatment decision-process, resulting in a more negative interaction with providers16
Marginalized racial or ethnic groups have increased mistrust of healthcare systems leading to reluctance to seek proper treatment 17
LFA is Committed to Addressing Lupus Disparities 
The LFA takes its commitment to reducing health disparities a step further by working across disciplines to create people-centered solutions to addressing disparities.
Healthcare Access and Quality
Education and Self-Management Programs
Education Access & Quality
Social and Community Context
Lupus Research Action Network (LRAN)
Spotlight series
People with central nervous system lupus, like myself, require specialty care that is more likely to be out of reach for people of color and lower-income individuals. We need to continue to drive policy change and develop interventions that will close the gap in lupus-related health disparities.
Cyrena Gawuga
PhD, MSW, LFA Ambassador
Read the executive summary below or download it for your reference.
Citations
1. Izmirly PM, Parton H, Wang L, et al. Prevalence of Systemic Lupus Erythematosus in the United States: Estimates From a Meta-Analysis of the Centers for Disease Control and Prevention National Lupus Registries. Arthritis and Rheumatology 2021;73(6):991-96. doi: 10.1002/ART.41632
2. Ward MM. Changes in the incidence of end-stage renal disease due to lupus nephritis, 1982-1995. Arch Intern Med 2000;160(20):3136-40. doi: 10.1001/archinte.160.20.3136 [published Online First: 2000/11/14]
3. Yen EY, Shaheen M, Woo JMP, et al. 46-year trends in systemic lupus erythematosus mortality in the United States, 1968 to 2013: A nationwide population-based study. Annals of Internal Medicine 2017;167(11):777-85. doi: 10.7326/M17-0102
4. Gianfrancesco MA, Dall'Era M, Murphy LB, et al. Mortality Among Minority Populations with Systemic Lupus Erythematosus, Including Asian and Hispanic/Latino Persons - California, 2007-2017. MMWR Morb Mortal Wkly Rep 2021;70(7):236-39. doi: 10.15585/mmwr.mm7007a2 [published Online First: 2021/02/19]
5. Lim SS, Helmick CG, Bao G, et al. Racial Disparities in Mortality Associated with Systemic Lupus Erythematosus - Fulton and DeKalb Counties, Georgia, 2002-2016. MMWR Morb Mortal Wkly Rep 2019;68(18):419-22. doi: 10.15585/mmwr.mm6818a4 [published Online First: 2019/05/10]
6. Aguirre A, Izadi Z, Trupin L, et al. Race, Ethnicity, and Disparities in the Risk of End-Organ Lupus Manifestations Following a Systemic Lupus Erythematosus Diagnosis in a Multiethnic Cohort. Arthritis Care Res (Hoboken) 2023;75(1):34-43. doi: 10.1002/acr.24892 [published Online First: 2022/04/23]
7. Taylor T, Anastasiou C, Ja C, et al. Causes of Death Among Individuals With Systemic Lupus Erythematosus by Race and Ethnicity: A Population-Based Study. Arthritis Care Res (Hoboken) 2023;75(1):61-68. doi: 10.1002/acr.24988 [published Online First: 2022/07/30]
8. Garg S, Bartels CM, Bao G, et al. Timing and Predictors of Incident Cardiovascular Disease in Systemic Lupus Erythematosus: Risk Occurs Early and Highlights Racial Disparities. J Rheumatol 2023;50(1):84-92. doi: 10.3899/jrheum.220279 [published Online First: 2022/08/02]
9. Centers for Disease C, Prevention. Trends in deaths from systemic lupus erythematosus--United States, 1979-1998. MMWR Morb Mortal Wkly Rep 2002;51(17):371-4. [published Online First: 2002/05/23]
10. Crosslin KL, Wiginton KL. The impact of race and ethnicity on disease severity in systemic lupus erythematosus. Ethn Dis 2009;19(3):301-7. [published Online First: 2009/09/23]
11. Walsh SJ, DeChello LM. Geographical variation in mortality from systemic lupus erythematosus in the United States. Lupus 2001;10(9):637-46. doi: 10.1191/096120301682430230 [published Online First: 2001/10/27]
12. Walsh SJ, Gilchrist A. Geographical clustering of mortality from systemic lupus erythematosus in the United States: contributions of poverty, Hispanic ethnicity and solar radiation. Lupus 2006;15(10):662-70. doi: 10.1191/0961203306071455 [published Online First: 2006/11/24]
13. Drenkard C, Bao G, Dennis G, et al. Burden of systemic lupus erythematosus on employment and work productivity: data from a large cohort in the southeastern United States. Arthritis Care Res (Hoboken) 2014;66(6):878-87. doi: 10.1002/acr.22245 [published Online First: 2013/12/18]
14. Gillis JZ, Yazdany J, Trupin L, et al. Medicaid and access to care among persons with systemic lupus erythematosus. Arthritis Rheum 2007;57(4):601-7. doi: 10.1002/art.22671 [published Online First: 2007/05/02]
15. Brown EA, Dismuke-Greer CE, Ramakrishnan V, et al. Impact of the Affordable Care Act Medicaid Expansion on Access to Care and Hospitalization Charges for Lupus Patients. Arthritis Care Res (Hoboken) 2020;72(2):208-15. doi: 10.1002/acr.24080 [published Online First: 2019/09/29]
16. Sun K, Eudy AM, Criscione-Schreiber LG, et al. Racial Differences in Patient-provider Communication, Patient Self-efficacy, and Their Associations With Systemic Lupus Erythematosus-related Damage: A Cross-sectional Survey. J Rheumatol 2021;48(7):1022-28. doi: 10.3899/jrheum.200682 [published Online First: 2020/12/02]
17. Vina ER, Masi CM, Green SL, et al. A study of racial/ethnic differences in treatment preferences among lupus patients. Rheumatology (Oxford) 2012;51(9):1697-706. doi: 10.1093/rheumatology/kes128 [published Online First: 2012/06/02]