Gary S. Gilkeson Career Development Award
About the Gary S. Gilkeson Career Development Award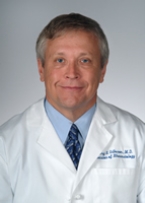 The Lupus Foundation of America created the Gary S. Gilkeson Career Development Award in 2013 to support early career scientists who are committed to lupus research. The award aids the professional growth of fellows (any year) and clinicians for up to two years of post-fellowship work in nephrology, rheumatology, or dermatology, or a postdoctoral researcher. The award is given annually, providing up to $70,000 in funds to each awardee per year.
This award uniquely prepares a scientist at the very beginning of his or her research career and unites them with a mentor who is an established investigator in the field of lupus research. The mentorship requirement provides valuable connections and often leads to identifying future opportunities. Many of the mentors have established cohorts of their own and are well recognized in the field.
Meet the Recipients of the Career Development Award
Request for Applications
Questions?
For more information, please contact Jaren Crump at crump@lupus.org.
Two doctors, male and female, holding clipboards.
Play Video
Building the Next Generation of Key Opinion Leaders in Lupus Research
Recipients of the Career Development Award explain how this award supports their education and training while enabling them to expand their research into the causes of lupus and finding ways to improve the quality of life for people living with this disease.