Lupus Awareness Month
Let's Make Lupus Visible
Each May rally your family, friends and community to raise funds and awareness of the invisible physical, emotional and financial impact of lupus.
Help us continue to advocate, educate, support and raise awareness
Donate Now
Thank you for joining us for Lupus Awareness Month 2023! During May, the lupus community joined together across the country to Make Lupus Visible and raise awareness of the physical, emotional and economic impact of lupus, while raising funds to support lupus research care and support services, and educational resources and programs.
While Lupus Awareness Month is over, there are still many ways to get involved and make a difference, including sharing your story on social media, becoming a lupus advocate, joining a Walk to End Lupus, starting a fundraiser, or making a donation.
Throughout Lupus Awareness Month in 2023 we highlighted some of the invisible ways lupus can impact daily life and shared information and resources. Check out a snapshot of what we covered each week: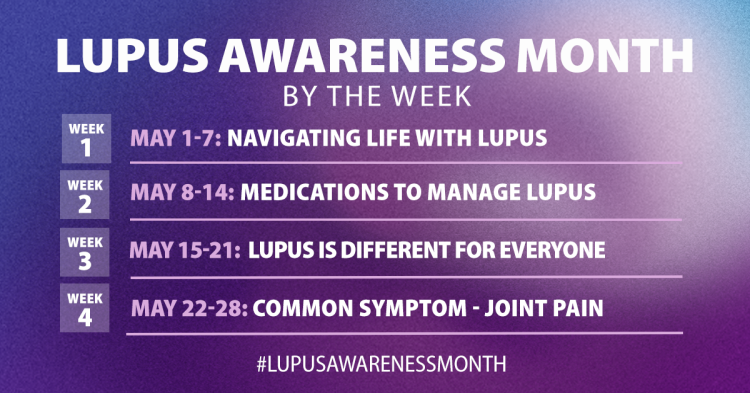 Check out our Lupus Awareness Month toolkit from 2023, and stay tuned for new tools to utilize for 2024!
Lupus Awareness Month Tools
Take the Purple Pledge
Sign your name and pledge to raise awareness of lupus year-round.
Thank you to our 2023 Lupus Awareness Month Sponsors!