Let's Make Lupus Visible | Georgia
Help Us Raise Awareness
We can make lupus visible during Lupus Awareness Month by educating friends, family and others about lupus and it's affects. We've put together a few bits of information to get you started.
This is my chapter |
Reset
Lupus Awareness Month Awareness Toolkit
Lupus Awareness Month is a name to be taken literally: it's the month of May where we all put in extra effort into letting the world know about lupus. We educate our communities and take to social media and let people know what lupus is, how it affects us and what we all can do about it.
Below, you'll find sample posts, quick bits of information and catchy images to get help you spread the word. Let everybody know about lupus!
Throughout Lupus Awareness Month we'll be highlighting some of the invisible ways lupus can impact daily life, and share information and resources. Check out a snapshot of what we'll cover each week: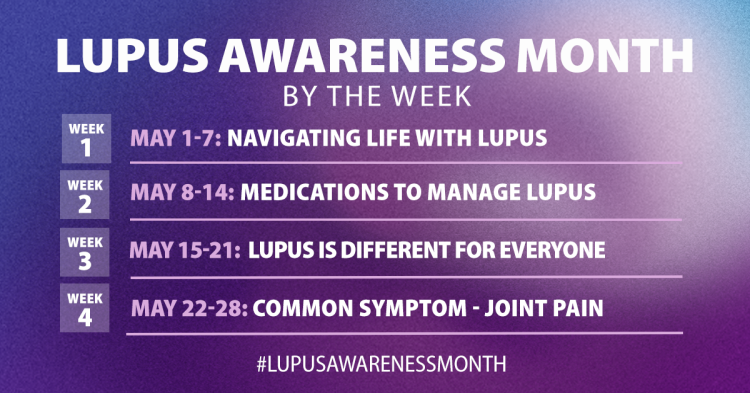 Lupus Awareness Month Tools
Sample Social Media Posts
Telling your own story is one of the best ways to let your friends know about your connection to lupus. If you're looking for inspiration, start with one of these:
Facebook
DYK that May is #LupusAwarenessMonth? Join me and Make Lupus Visible by raising awareness about this chronic autoimmune disease. Learn more about how you can get involved and help make lupus visible: LupusGA.org
Help Make Lupus Visible by getting involved this #LupusAwarenessMonth! This May, I'm helping make lupus visible by [customize what you're doing]. You can learn more about how to get involved here: LupusGA.org
Support efforts to advance lupus research, educational programs and support services by donating to the @LupusFoundationofAmerica during #LupusAwarenessMonth! We can't put an end to this cruel disease without your help! Start a Facebook fundraiser today: facebook.com/LupusGeorgia/fundraisers
Twitter
DYK that May is #LupusAwarenessMonth? Join me and Make Lupus Visible by raising awareness about this chronic autoimmune disease. Learn more about how you can get involved and help make #lupus visible: LupusGA.org
Help Make Lupus Visible by getting involved this #LupusAwarenessMonth! This May, I'm helping make lupus visible by [customize what you're doing]. You can learn more about how to get involved here: LupusGA.org
Support efforts to advance lupus research by donating to @lupusGA.org during #LupusAwarenessMonth! We can't put an end to this cruel disease without your help: LupusGA.org
---
Educational Social Posts
Facebook
No matter how long ago [I/my friend] was diagnosed with lupus, the @LupusFoundationofAmerica's Take Charge weekly email series helps empower me with the skills and resources I need to better understand this cruel disease. Join me this #LupusAwarenessMonth and learn more at lupus.org/TakeCharge
Did you know you can easily contribute to lupus drug development, improve health outcomes for lupus warriors, track your health and more – all from your phone or desktop?! This #LupusAwarenessMonth, learn more and join RAY (Research Accelerated by You), LFA's online platform: lupus.org/RAY
Do you have a question about diagnosing, treating, understanding or living with lupus? Contact the @LupusFoundationofAmerica's Health Education Specialists for free support, information and resources to help you best navigate this disease in English and Spanish: lupus.org/georgia/contact-us-georgia
Twitter
No matter how long ago [I/my friend] was diagnosed with lupus, the @lupusorg's Take Charge weekly email series helps empower me with the skills and resources I need to better understand this cruel disease. Join me this #LupusAwarenessMonth and learn more at lupus.org/TakeCharge
DYK you can easily contribute to #lupus drug development, improve health outcomes for lupus warriors, track your health & more – all from your phone?! This #LupusAwarenessMonth, learn more & join RAY (Research Accelerated by You), LFA's online platform: lupus.org/RAY
Do you have a question about diagnosing, treating, understanding or living with lupus? Contact the @lupusorg's Health Education Specialists for free support, information and resources to help you best navigate this disease in English and Spanish: lupus.org/georgia/contact-us-georgia
---
Put on Purple
Facebook
Did you know that May 10 is World Lupus Day where we Put on Purple to show support for the millions affected by lupus? It's an easy way to raise lupus awareness! Learn more and spread the word during Lupus Awareness Month by visiting: www.LupusGA.org.
Show your support for those affected by lupus by proudly sporting your purple for World Lupus Day on May 10th and donate to advance lupus research efforts and educational programs: lupus.org/PutOnPurple
Today's World Lupus Day! I wear purple to help raise awareness for the millions impacted by this devastating disease. Let's make lupus visible: share this post and encourage others to Put on Purple today! Learn more by visiting: lupus.org/PutOnPurple
Twitter
DYK that May 10 is #WorldLupusDay where we Put On Purple to show support the millions affected by lupus? It's an easy way to raise lupus awareness! Learn more and spread the word during #LupusAwarenessMonth by visiting: lupus.org/PutOnPurple
Show your support for those affected by #lupus by proudly sporting your purple for #WorldLupusDay on May 10th and donate to advance lupus research efforts and educational programs: lupus.org/PutOnPurple #LupusAwarenessMonth
Today's #WorldLupusDay! I wear purple to help raise awareness for the millions impacted by this devastating disease. Let's make lupus visible: share this post and encourage others to Put On Purple today! Learn more by visiting: lupus.org/PutOnPurple #LupusAwarenessMonth
Corporate Social Posts
Facebook
We're proud to team up with @LupusFoundationofAmerica to make lupus visible during Lupus Awareness Month this May. Join us and support the estimated 1.5 million Americans living with lupus when you [insert promo].
This month, we're [insert offer/promo] in support of all affected by lupus. Head over to the @LupusFoundationofAmerica resources to learn more about this chronic autoimmune disease: lupus.org/LupusAwarenessMonth
Twitter
We're proud to team up with @lupusorg to make lupus visible during Lupus Awareness Month this May. Join us and support the estimated 1.5 million Americans living with lupus when you [insert promo].
This month, we're [insert offer/promo] in support of all affected by lupus. Head over to the @lupusorg resources to learn more about this chronic autoimmune disease: lupus.org/resources
Corporate Social Shareables

0