Blog
November 1, 2020
Native American Heritage Month
Updated December 2022
This November for Native American Heritage Month, the Lupus Foundation of America (LFA) celebrates Native American people and their contributions, rich culture, history, and unique traditions. The LFA is also focusing its attention and efforts on raising lupus awareness and how the disease disproportionately affects marginalized groups like Native Americans, including Alaskan Natives. By sharing the stories of those living with lupus in the Native American community, we can highlight the need for advancements in research and improved health care, access and treatments for people in these communities.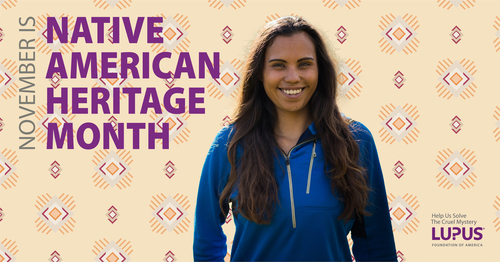 A number of social and economic factors play a role in lupus diagnosis, disease management and access to care for Native Americans with lupus. Right now, very little is known about why lupus is more common amongst Native Americans or why they experience onset of the disease earlier in life, just shy of age 30, compared to white Americans. Native Americans are also more likely to have organ involvement and damage than white Americans.¹ Symptoms like the malar rash,  photosensitivity and oral ulcers also appear at a higher rate among Native Americans than African Americans.² 
In addition, Native Americans encounter many barriers when accessing high-quality lupus care. For example, they are at the highest risk of being uninsured, in part due to limited access to affordable coverage options, which can lead to worse disease management and outcomes.³ For those in the Native American community that reside in remote areas, access to specialists and regular healthcare treatment options are limited, and transportation to those medical services isn't always available.¹ Native Americans with lupus face a number of challenges in seeking a diagnosis and treatment for lupus. Raising awareness and understanding of the impact of lupus on these communities will help us work together to address these challenges and disparities and focus on solutions. Watch our YouTube playlist to learn more about the impact of lupus on Native Americans.
It's important to educate yourself and your loved ones about lupus signs and symptoms. Talk to your doctors, and reach out to your care team for any questions you may have. At the Lupus Foundation of America, we have a wealth of resources on understanding,  diagnosing and treating lupus, as well as a team of health educators who can help you find the most credible, up-to-date answers to your questions about lupus.
---
Citations:
Kheir JM, Guthridge CJ, Johnston JR, et al. Unique clinical characteristics, autoantibodies and medication use in Native American patients with systemic lupus erythematosus. Lupus Science & Medicine 2018 https://lupus.bmj.com/content/5/1/e000247
Walsh, N. (2018, March 02). Native Americans Face Challenges in Lupus. Retrieved October 20, 2020, from https://www.medpagetoday.com/rheumatology/lupus/71499
Artiga, S., & Orgera, K. (2020, March 5). Changes in Health Coverage by Race and Ethnicity since the ACA, 2010-2018. Kaiser Family Foundation. https://www.kff.org/disparities-policy/issue-brief/changes-in-health-coverage-by-race-and-ethnicity-since-the-aca-2010-2018/