Personal Stories
Tischa C. - Diagnosed at age 43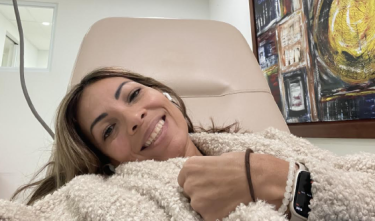 Lupus wow, I heard about it but never thought for an instance I am alive and a survivor due to this condition. My name is Tischa, I'm 46 years old and live in Puerto Rico. The symptoms started long ago but it wasn't until I collapsed in the summer of 2021, that everything started to make sense. Several years before I was diagnosed with fibromyalgia and even I had a L5-S1 back surgery due to nerve damage, for quite some time everything regarding my back was fine but my migraines were blowing me away. I couldn't do anything, I always thought my butterfly rash on the face and neck was due to rosacea and the pain I felt on my chest was because of all the stress I was facing but it turns out that in my case all was related to lupus!
That summer 2021 I was on schedule for another back surgery and one day on my way to take my daughter to volleyball camp I started feeling really bad so we decided to go home. I started feeling dizzy and my heart pounding so hard that my chest was going to blow away, then the pain moved to one side of the arm, and I almost couldn't breathe. My angel, yes! I'm alive because my 13 year old daughter Andrea rapidly called a few people and ran into my neighbors house. They took me to the hospital convulsing and with the heart rate more than 220 beats. I thought it was my moment, for sure I know what a panic attack is and it wasn't after more examinations from several specialists and rheumatologists that they diagnosed SLE, plus other autoimmune diseases!
Yes, it's been totally hard since there is a lot of uncertainty about the condition. The people see you all fine but they don't know the struggles, still at this moment I've not gone in remission. I keep fighting with health insurance coverage, the mental hardship and most of all the trauma it caused in my daughter seeing me like that.
What keeps me alive, even in the hardest times: My faith and hope that accept this process and if I am here with a smile, I can empower or help others that are currently going through this battle!
🦋#lupuswarrior Tischa