Personal Stories
Kendall Eilerman: Fundraising Champion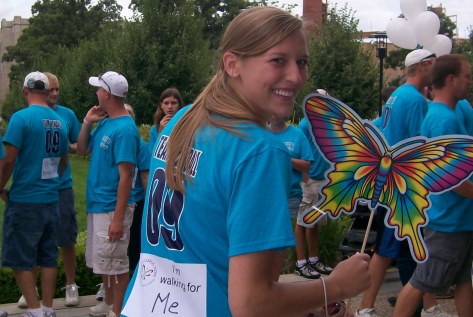 Oftentimes when a nonprofit organization shares an outstanding example of fundraising, the focus is on a big corporation or a wealthy philanthropist in the community.
Yet, a young 5th grade school teacher from the small town of Batchtown, Ill. has raised more money for the Lupus Foundation of America, Heartland Chapter than any other individual, corporation or foundation.
Kendall Eilerman was just 18 years old and a freshman in college when she was diagnosed with lupus after suffering from pain and extreme fatigue. It was frightening at her age to have to deal with the prospect of living the rest of her life with an incurable chronic disease.
She leaned on her family and friends, listened to her doctors, and decided that instead of feeling sorry for herself, she was going to fight the disease with all she had. She was put on an aggressive treatment plan that included taking several powerful medications and began to slowly feel better, although it would take several years to find the best combination of medicines to treat her disease.
Kendall's grandfather also had lupus and passed away from complications from the disease when he was just 52 years old. So, Kendall and her family had a strong motivation for finding a cure for lupus and helping others living with the disease.
In the summer of 2009, Kendall and her family participated in a small community walk that was taking place in Rolla, MO to benefit the Lupus Foundation of America, Heartland Chapter and raised $1,000. This is was the beginning of "Team Kendall".
Kendall and her family decided that they needed to make an even larger donation the following year and that is when the first "Team Kendall Pub & Putt" fundraising event took place in Kendall's small town. Over the past six years, the Pub & Putt event has grown and now raises approximately $10,000 each year for the Lupus Foundation of America, Heartland Chapter which they donate as part of the organization's Walk to End Lupus Now event.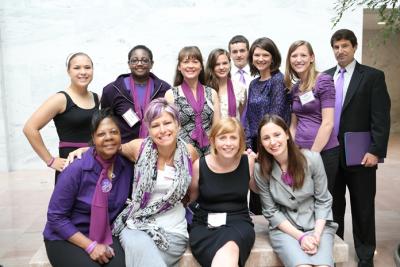 To date, Kendall and her team have raised over $48,000 to support the Chapter's programs of education and support and to fund research to find a cure.
In 2013, Kendall and her cousin Tara joined the Foundation's Advocacy Summit in Washington, DC to tell her story on Capitol Hill. She met with several representatives and advocated for increased funding for lupus through the National Institutes of Health.
She also helps to raise awareness of lupus every May by participating in Lupus Awareness Month.
Her goal is to give hope to others with lupus and to one day find a cure for this cruel and mysterious disease.
Earlier this year, the Heartland Chapter honored Kendall at their Purple Ball with the Lupus Leadership Award for Philanthropy.
Kendall Eilerman and her "Team Kendall" serve as an inspiring example of how commitment, dedication, and hard work can greatly benefit others.