News
November 7, 2023
Lupus Foundation of America Research Accomplishments to be Presented at the 2023 American College of Rheumatology Annual Meeting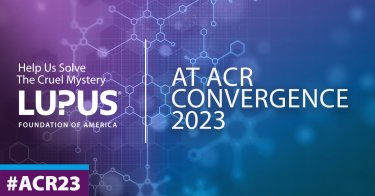 The American College of Rheumatology Convergence 2023 meeting will be held in San Diego, CA from November 10-15, 2023. Innovative studies and research funded or supported by the Lupus Foundation of America (LFA) will be presented including discoveries from the Foundation's Research Accelerated by You (RAY®) patient and caregiver registry, Strategies to Embrace Living with Lupus Fearlessly (SELF) self-care program and Health Education Specialist program.
The RAY study, Factors Influencing Time to Diagnosis in U.S. Patients with Systemic Lupus Erythematosus, identified an average delay of more than six years between when a person first experiences symptoms to when they receive a lupus diagnosis, as well as many factors that seemingly influence time to diagnosis. Additionally, older people, those living in the southern region of the US, and people identifying as American Indian or Alaska Native experience longer delays in diagnosis compared to other groups.
The abstract, Strategies to Embrace Living with Lupus Fearlessly (SELF): A Promising Digital Intervention for Lupus Self-Management, found strong interest in people with lupus to improve their disease self-management skills for better quality of life. Program participants reported increased self-management skills, decreased fatigue, better overall mental and physical health, and improved medication adherence and doctor/patient communication.
The observational study, Meeting the Educational and Language Needs of the Lupus Community: A Snapshot of 2022 Lupus Inquiries, evaluates inquiries to the Lupus Foundation of America's Health Education Specialists (HES). More than 2,450 people with lupus in the US and other countries contacted the LFA for disease education, non-medical support, and helpful resources in 2022. Overall, information about living and coping with lupus and available resources were the top two topics received by HES.
"As exploration and understanding of lupus grows, the Lupus Foundation of America continues to lead, contribute and support many novel and exciting investigations that propel the field forward," said Joy Buie, PhD, MSCR, RN, Director of Research, Lupus Foundation of America. "Leveraging the depth of data from the Lupus Foundation of America's Research Accelerated by You (RAY®) registry, new research will be presented this year that identifies four unique factors that influence how long it takes a person to receive a lupus diagnosis. These insights are especially critical when managing a time-sensitive disease like lupus whereby faster access to treatment leads to better outcomes."
The Lupus Foundation of America is also deeply committed to building trust in the Black/African American community to foster participation in lupus clinical trials and reduce disparities in trial participation. In the study, Lupus Research Action Network: Increasing Minority Clinical Trial Participation Through Peer Leaders, a community-based popular opinion leader model increased awareness of and commitment to diversity in lupus clinical trials among Black/African American people with lupus. In peer-to-peer outreach, members of the LFA's Lupus Research Action Network (LRAN) have been engaged in opportunities to discuss the importance of participation in lupus research. LRAN participants (60%) reported an increased understanding of trial needs and barriers to enrollment among racial and ethnic minoritized people with lupus, eight out of ten reported that their understanding of clinical trials and implications of the history of racism in clinical trials increased, and nearly all (94-97%) participants increased their commitment to helping diversify trial participation for people with lupus. Showing that after two trainings, an adapted, community-based popular opinion leader model proved useful in increasing awareness of and commitment to diversifying participation in lupus trials.
The study, Understanding the Burden of Cutaneous Lupus: A Subset Analysis from the 2022 World Lupus Federation Global Impact (WLFGI) Patient Survey, was supported by the Lupus Foundation of America and offers a unique, global insight into lupus patient-reported burden of cutaneous lupus erythematosus (CLE) compared to systemic lupus erythematosus (SLE). The LFA, which serves as the Secretariat of the World Lupus Federation, surveyed over 6,700 people with lupus on organ impact and had the cutaneous lupus data further analyzed. The investigators found that skin-limited or CLE disease appears to carry as high a quality-of-life burden as SLE in several areas of disease impact , and that the presence of CLE among people with SLE is associated with higher quality of life burden, with particular impact on mental health (44%) and social interaction.
The Lupus Foundation of America's 2022 Evelyn V. Hess Award recipient, Eric Morand, MBBS, PhD, Monash University, will present the abstract, Identifying Important Domains for Inclusion in a Novel Treatment Response Measure for Systemic Lupus Erythematosus (TRM-SLE): Results of a Modified Delphi Study. TRM-SLE is a new clinical outcome assessment for SLE randomized controlled trials and is supported by the LFA for representing and elevating the patient voice in clinical research. In this study, 14 areas or domains were deemed important to measure treatment response in SLE by both experts and patients, and will be further evaluated to create a final list of domains to include in this new treatment response measure for SLE.
Throughout the ACR Meeting, the Lupus Foundation of America will share updates on social media highlighting the innovative scientific initiatives and research studies presented, as well as breaking news. Follow the Lupus Foundation of America for evolving conference hot topics and research highlights at LFA's Twitter, Facebook, LinkedIn.