In Memoriam
We Remember Steve Gibson
Lupus Foundation of America President and CEO, 2018-2022
Our hearts are heavy as we announce the passing of our President and CEO Steve Gibson, a creative and visionary leader who inspired us all.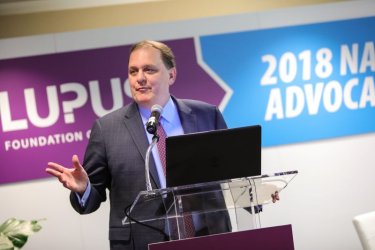 During his more than five years at the Lupus Foundation of America (LFA), Steve made an incredible difference in advancing lupus research, education, advocacy and support while improving life now for people living with lupus. Steve ensured that the patient voice was at the center of all our work. Under his leadership, the LFA:
Increased global awareness and understanding of lupus
Worked with researchers, lupus advocates, industry partners and others to remove barriers in lupus research and help pave the way for the FDA approval of the first two new lupus medications in more than half a century
Supported continued research and innovation by funding countless lupus studies and establishing new patient-focused research platforms such as RAY, to help accelerate the development of new treatments and improve outcomes
Focused on addressing health disparities through work with local and community leaders and increasing participation in clinical trials by underrepresented racial and ethnic minority groups
Convened the largest lupus advocacy summit in the nation year after year, and generated more than $680 million in federal funding for lupus research and education
Provided support for hundreds of thousands of people impacted by lupus through new self-management programs, online and virtual programs, and the expansion of regional offices and support groups
Continued to grow the influence and reach of the World Lupus Federation
Fought to ensure lupus medications are accessible and affordable
Was the go-to source during the COVID-19 pandemic, providing resources and timely health information, while also taking action to help ensure access to life-saving medications
If you met Steve, you experienced someone that was a leader, a team player and an amazing relationship builder. He will also be remembered for his genuine kindness, his talent, his bright smile, and his passion for helping others. 
He was a wonderful person who will be dearly missed. Steve's legacy will continue at the LFA today and always. 
Read Steve's obituary that was posted in the Desert Sun. For those who are moved to do so, a donation can be made to the Lupus Foundation of America in Steve's memory.