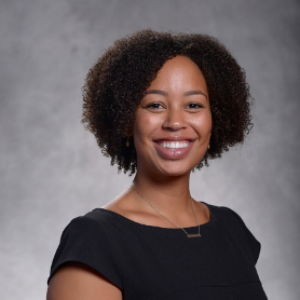 Dominique Kinnett-Hopkins, PhD
Assistant Professor, School of Kinesiology, University of Michigan
Dr. Kinnett-Hopkins is currently an Assistant Professor at the School of Kinesiology at the University of Michigan and a 2020 recipient of the Lupus Foundation of America's Gary S. Gilkeson Career Development Award.
More information about her 2020 award project can be found below. 
Project Information
Northwestern University Feinberg School of Medicine
Title of Project: A Progressive Home-based Exercise Intervention for Persons with Systemic Lupus Erythematosus
Mentor: Rosalind Ramsey-Goldman, MD, DrPH, Solovy Arthritis Research Society, Research Professor of Medicine Chicago, IL 60611 Division of Rheumatology
Project Summary: SLE is a chronic autoimmune disease with a prevalence of approximately 1.5 million persons in the US. Evidence suggests physical activity (PA) is a modifiable lifestyle behavior that helps to reduce fatigue in persons with SLE. Yet, persons with SLE are not typically physically active and are often afraid to exercise.
One limitation of the current evidence supporting PA is that the majority of the research has been conducted in the context of supervised lab-based research studies, which are not conducive to facilitating PA participation once the funding period ends. The proposed exercise intervention, MOVES (MOtivating indiViduals with lupus to ExerciSe) addresses this limitation with its tailored progressive increase in exercise behavior, tapering off of behavioral coaching, and home-based approach.
The goal of the proposed research project is to develop, pilot test, and evaluate a progressive home-based, four-month, exercise program for increasing physical activity participation towards the national guidelines and for decreasing fatigue in inactive persons with SLE based on social cognitive theory (SCT) principles of behavior change and motivational interviewing.
MOVES will be developed in collaboration with five individuals with SLE. Thirty persons with SLE will be randomized into an intervention or waitlist control group. All participants will complete assessments at baseline, mid-point, post-intervention, and two-month post.
Participants in the intervention group will take part in semi-structured interviews evaluating the MOVES program. Physical activity, exercise behavior, fatigue, and other symptoms will be analyzed using independent samples t-test and chi-square difference tests. The physical activity SCT determinants model will be tested via linear panel analysis and covariance modeling.
Qualitative interviews will be analyzed using a qualitative description approach.