Blog
November 9, 2020
Sharing the Journey: Managing Your Lupus Care
The Sharing the Journey series is by you and for you. In your own words, we highlight the perspectives and personal experiences of people who struggle with lupus each day.
This month, we asked Sharing the Journey participants the following question: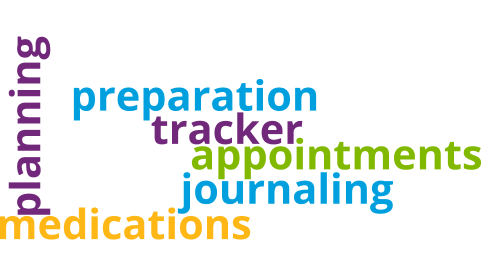 From medication schedules to doctor's appointments to keeping track of symptoms, it's hard to manage every aspect of lupus treatment. The coronavirus pandemic has also brought about more telehealth appointments, which can be something new to get used to. What are some ways you keep track of everything related to your lupus care, in order to ensure the most productive medical appointments? (Ex: Symptom trackers, medication and appt. reminders, writing out questions ahead of appointments).
Keeping track of everything dealing with lupus can be difficult. I have alarms set and symptom trackers on my phone, as well as pop up reminders. In other words, my phone has gone from just a device to contact others to it being my lifeline. Without its calendar, reminders, trackers, etc. I don't know where I would be. I encourage others to utilize electronic devices to keep up to date on all things lupus. It has truly been a life saver for me. – Angel 
I keep a detailed planner that includes my doctor appointments. I tend to send any burning questions I have to my doctors via my online portal ahead of time so that they have time to do research, or request testing, if needed. This is helpful because I don't have to worry about forgetting to ask. I also keep a journal on my phone to track symptoms. I'm terrible at keeping up with this on a daily basis, but if there's a symptom that is giving me a lot of trouble I add it to that journal and review before my appointment or read off of it during the appointment. – Kayla 
I am blessed to have a rheumatologist who is literally a walking encyclopedia of everything lupus-related, so I never want to waste a moment in the room with him. I typically write down my concerns, medication refill requests, and symptoms in a note on my phone as they occur. If any one of them is exceptionally pressing (i.e. I need a medication refill because I'm about to run out or I have weird bruises all over my body - yes both of these have happened) I will call the office. But for the day to day issues, I keep this ongoing list. Then, when I get to his office, I spend some time in the waiting room reviewing my list, editing and adding to it, and formulating questions. Sometimes I have to remind myself to ask the bigger questions and not just focus on what is causing me pain that day. This has helped me make the most of my doctor's appointments for years! – Becca
---
Make each visit with your doctor count by planning ahead to ensure all of your questions and concerns are answered. 
It's easy to forget questions that may have popped up between appointments, or the valuable tidbits of information your doctor has shared with you. So, take the necessary steps by preparing and prioritizing a list of topics to discuss and keep record of your symptoms with a symptom tracker or simply on your phone. During your appointment, don't hesitate to jot down notes, ask questions, and clearly communicate any changes in your health to your care team.