Blog
January 9, 2019
Sharing the Journey: Hope in the New Year
The Sharing the Journey series is by you and for you. In your own words, we highlight the perspectives and personal experiences of people who struggle with lupus each day.
This month, we asked Sharing the Journey participants the following question:
As we welcome a new year, what gives you hope on your lupus journey?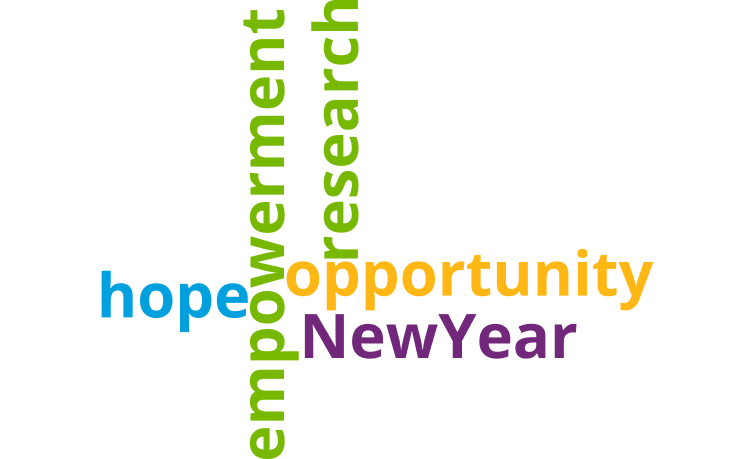 This new year, I'm hopeful about all the new possibilities in store for me. Looking at the coming year, I have so many opportunities to take care of myself and learn more about living with lupus in a healthier manner. As I graduate college, I will have to navigate juggling the professional world and my disease, and I am ready and willing to tackle this challenge. I know that, thus far, my college commitments have forced me to ignore my lupus more often than was healthy. I am excited for the opportunity to approach life from a new perspective and to have the opportunity to rest when I need it and put my health first when necessary. I am hopeful about the ability to re-prioritize my life! – Becca
I think like [with] anyone else, the new year brings a fresh start. Sometimes the simplest hope of the least doctor appointments and medications for the year is enough of a resolution for me. Most importantly, I try and have a positive outlook on this disease, turn to family for support, and be forgiving to myself when I don't meet my own expectations. It's one day at a time living with lupus. – Roxi
With the new year upon us, there are many things that give me hope in my lupus journey. However, what I have noticed most prominently through my advocacy/volunteer efforts, as well as in my professional life in public health and the pharmaceutical industry, is the immense effort by researchers and health care professionals to advance science to better treat lupus (and to potentially cure it), as well as the patient-centricity and empowerment advances they have made to truly allow the patient to take charge of their health and play an active role in it. The most vital input into the treatment of lupus comes from the patient who endures it every day, so seeing these organizations and professionals coming together and truly valuing the patient's opinion is incredibly encouraging and helps me believe that progress is achievable and is right around the corner. – Brittany
The most hope I get is by seeing everyone who fights lupus, supports and cares for people living with lupus, and those who fundraise. Being around people who are genuinely empathetic and can laugh with you during the good times and sit with you during the bad reassures me that everything will be okay. They give me hope that research will continue to progress, new treatments will become available, and we will keep fighting until we find a cure. – Nicole
Although (due to Lupus) I am the sickest I've ever been (physically) heading into 2019, I am also the most hopeful I've ever been heading into the new year. This glimmer of hope I have struggled to find is collectively derived from the love I receive from my amazing family, girlfriend, caregivers, friends, medical team, and fellow Lupus Warriors. What gives me the most hope however, is the work that the Lupus Foundation of America is doing in the trenches for us Lupus Warriors and our families. Their commitment to Lupus research, education, support, and advocacy gives struggling Lupus Warriors like me a light to follow towards the end of a very dark, painful, lonely tunnel. There are new Lupus support channels, treatment options, and research breakthroughs happening now and none of it would be possible without the work the LFA has done. Thank you so much for all the work you do and for giving us this much needed glimmer of hope. – Sara
---
Finding Hope and Empowerment in the New Year
Lots of people make New Year's resolutions. But by the time February and March roll around, many resolutions have been forgotten. How can you find hope, remain positive, or feel empowered in 2019? Try these tips:
Learn about our lupus research. One source of hope for people with lupus is the research that's taking place to develop better treatments and eventually a cure. We believe the voices of people affected by lupus are essential for research to be meaningful and successful. Find out more about our research work and how you can participate.
Tell your story. You can spread awareness and increase understanding of lupus by sharing your journey with others. When you do, you also serve as a role model and provide hope and inspiration for other lupus warriors. Be a voice for lupus.
Connect with others. Staying connected socially can help you put lupus in perspective and build a support system. You may find camaraderie by participating in a walk or other fundraising or educational event. Or you might prefer to try an online support group. Get involved with our walk program,find local support through our chapters, or join LupusConnect, our online community.