Blog
September 20, 2023
SELF is Now a Mobile App!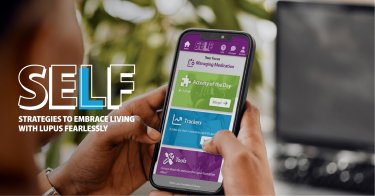 For over a year, our online self-management program, SELF (Strategies to Embrace Living with Lupus Fearlessly), has been empowering you to manage your lupus so that you can live your best life. SELF is your virtual coach for self-management, helping you manage symptoms, stress, medications, and to help you work with your health care team. Our users of this still fairly new program asked to make SELF available as an app and we have delivered. SELF is now an app, available to be easily downloaded in the Apple App Store or Google Play Store!
With the app, you will have full access to your customized SELF plan on the go, making it quicker and more convenient to track your symptoms as soon as they appear and journal your experiences while they are still fresh in your mind. If you are a new user, you can simply sign up in the app and answer a few questions that will help tailor your plan to the areas of your lupus management you want to focus on. If you are already using SELF, you won't have to start over in the program. Simply download the app and your information will be at your fingertips.
The app also contains new and improved features such as:
Symptom tracker and journal are now linked for a complete view of your lupus experiences
Medication tracker uses auto-complete to help with spelling difficult medication names and suggesting common doses
A planning tool for you to decide when and how you will take your medication
Easier access to previous journal entries
We worked with people with lupus, their doctors, and behavior change specialists to ensure that you get the most out of your experience with SELF. We encourage you to take advantage of all that the new app has to offer.
SELF is free and available to people in the United States with lupus ages 18 years and over. Learn more about SELF and how to participate at Lupus.org/SELF. The SELF App is now available and can be downloaded in the Apple App Store or Google Play Store.