Blog
June 14, 2019
Mitra G. – Why Connecting with Research is Important
Mitra first started noticing symptoms of lupus at the age of 18 when she began college – what started as a rash on her chest turned into significant hair loss. Different symptoms presented themselves over the years – from swollen lymph nodes to extreme aches in her hands and knees – and in her senior year, Mitra found herself in the hospital with kidney pain. She also lives with light sensitivity, frequent headaches and extreme exhaustion daily.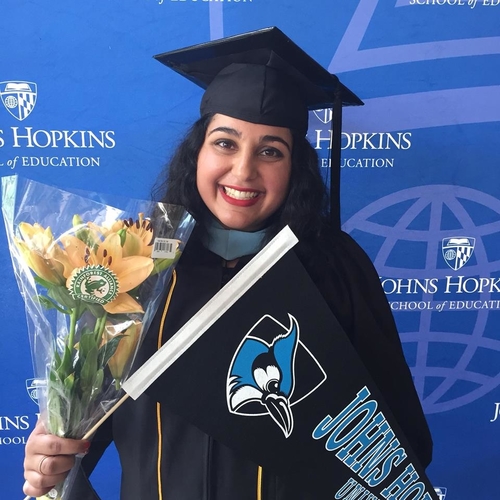 Mitra's symptoms come across as invisible – nobody can see her pain. "This is one of the most challenging parts of dealing with an autoimmune disease such as lupus," she shared. "People don't necessarily know what you're experiencing."
Mitra recently had the opportunity to share her experience and meet a researcher working on treatments for lupus through a new campaign, GOBOLDLY. Here is what she had to say:
Q: You shared that the there was a new meaning behind the word researcher after your diagnosis – can you explain that?
A: My mom has been a pharmaceutical researcher for over 25 years, longer than I have been alive. I grew up around researchers, playing with microscopes and wearing lab coats, but never truly understood their importance until I became "sick." I now realize the power these individuals hold - the immense perseverance and dedication they have to make the quality of life better for individuals suffering from various illnesses.
Q: Do you follow what is going on in research more closely now?
A: Since joining the GOBOLDLY campaign, and beginning the advocacy work I do for autoimmune research, I have been fortunate enough to be more "in the know" of what is happening in the world of research. As a result, I do follow what is happening in terms of research much more closely.
Q: Why do you think it's important for people with lupus to know about research? What do you think others with lupus should understand about the research that is underway?
A: I think it's important for anyone with a condition like lupus to know what is on the way, what researchers are working towards and that there is hope for the future and for a better quality of life.
Q: What would you like to say to all those researchers working to find better treatments and a cure?
A: As a graduate student studying to be a school counselor, one of my professors would frequently remind us: "it's not about the product, it's about the process." I feel this statement applies perfectly to the research process. If one trial does not work researchers should keep trying; they should keep learning, keep proceeding and keep innovating. And fortunately for us that is exactly what they do!!
Q: What does GOBOLDLY mean to you?
A: To "Go Boldly" means to take risks, to be confident in oneself and the journey you are on. I feel that the term "Go Boldly" applies perfectly to both researchers and patients.
Q: Is there anything else you would like to add about your experience of meeting a lupus researcher and how that changed your view of research?
A: Meeting Dr. Moslin has been one of the most wonderful parts of this journey. While he may say I inspire him, his compassion, perseverance and dedication to his work have inspired me. Often times we see researchers as these 2D figures working in labs, but Dr. Moslin is most certainly so much more.
Every day the Lupus Foundation of America boldly work towards a cure for lupus. It's an extremely promising time in lupus research and we strive to educate and empower people just like Mitra to play an active role in the fight – whether it's from getting involved in clinical trials or staying up-to-date on reporting of the most important lupus research news on Inside Lupus Research.