Blog
October 4, 2019
Meet the Researcher: Laura Lewandowski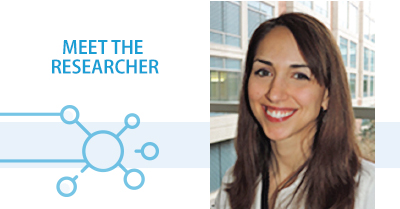 Laura Lewandowski
National Institutes of Health, National Institute
Arthritis Musculoskeletal Skin Disease
2014 Gary S. Gilkeson Career Development Award
Years in Field: 7 | Area of Specialty: 
I am passionate about understanding more about childhood onset lupus, especially understanding why childhood lupus is so severe, understanding how genetics contribute to disease, and racial and ethnic variations in disease severity.
What's the best part of your job?
The best part of my job is helping patients with lupus and their families. Whether I do this through a clinic visit or through my research, helping a child with lupus get better is the best thing about what I do.
What initially drew you to this field?
When I was training in general pediatrics, I met two young women with severe SLE. One of them progressed rapidly and went into end stage renal disease when she was just 15 years old. I formed a very strong bond with both of the girls and was moved by how both the severity and unpredictable nature of the disease affected these patients. From that time on, I was sure I wanted to become a pediatric rheumatologist. Once I began taking care of these patients, I wanted to participate in research which would improve understanding of the disease and hopefully lead to better therapy, including more treatments to choose from and improved treatments with less side effects.
When you're not in the lab or seeing patients, where can you be found?
Spending time exploring and hiking with family, running, traveling, writing poetry, learning harmonica and reading.