Blog
March 9, 2020
How Holly Fundraises for Lupus Awareness Month
When Holly was 21 years old, she returned from vacation with just a terrible sunburn – or so she thought. Her sunburn wouldn't go away and she developed excruciating joint pain to the point that she could barely move.
Soon after, Holly made an appointment with the dermatologist. After explaining her symptoms, the dermatologist suspected lupus, and after some tests and a biopsy, her diagnosis was confirmed. "I consider myself lucky. I was diagnosed quickly and didn't have to go from doctor to doctor," Holly shared.
Now, Holly is doing well and is able to manage her disease with only a few symptoms. In recent years, she decided that she wanted to do more to make a difference in the fight to end lupus.
"I received an email from the Lupus Foundation of America about their fundraising program, Make Your Mark™," Holly shared. "I'm a member of the Belle Vernon Musical Society, a local private club, and we decided to fundraise for the Foundation because it's a cause near and dear to me."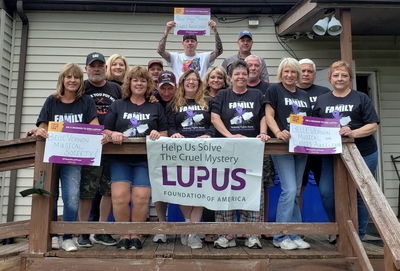 Holly and her friends at the musical society hold their fundraiser every year during Lupus Awareness Month, so that they can fundraise and raise awareness for lupus at the same time. Last year Holly and the Belle Vernon Musical Society raised over $3,000 at their Make Your Mark fundraiser, and they hope to raise the same this year! 
"Each year we do a Rock-a-Thon where people commit to rocking in a rocking chair throughout the day. During the Rock-a-Thon, we do raffles, sell shirts and more to raise money," said Holly. "Last year we added in a carnival, and we plan to do that again this year." 
Not only does Holly love making a difference in the fight to end lupus, but she enjoys seeing her friends and family rally with her – the support is overwhelming!
Join Holly and other lupus warriors this May for Lupus Awareness Month and plan your own fundraiser! From bake sales, to paint nights and everything in between – you can make anything into a fundraiser with Make Your Mark.