Blog
June 8, 2020
Highlights from the 21st European Congress of Rheumatology
Held entirely online due to the pandemic, the 2020 edition of the European League Against Rheumatism (EULAR) annual conference was a "virtual" success. The organization represents patients, health professionals and scientific societies of rheumatology of all the European nations.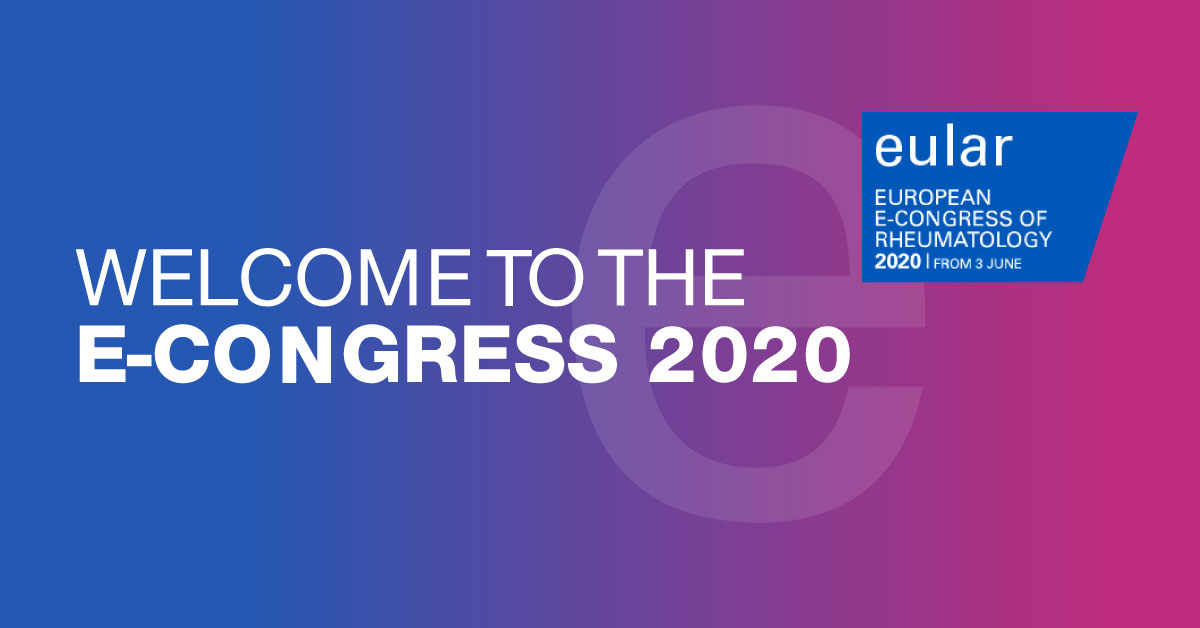 Hundreds of "e-presentations" and "e-posters" sharing the latest in rheumatology research from around the world were shared, revealing continued acceleration in lupus investigation, treatment and disease management. The Lupus Foundation of America and its Inside Lupus Research team shared important research news and information from the conference via Facebook and Twitter. Conference highlights included:
Treatment News
Hydroxychloroquine (HCQ) was a hot topic throughout the conference. One study on pregnancy outcomes reported that women who took HCQ throughout their pregnancy experienced more favorable outcomes than women who did not, exhibiting a significantly lower rate of preterm births, less flares, and lower incidence of pre-eclampsia. In another study, HCQ blood levels were found to predict risk for thrombotic events in people with lupus. Still another study indicated that HCQ retinopathy rarely occurs in the first 5 years of lupus disease onset, suggesting lupus may be a risk factor for developing the eye disease.
In a Phase 3 trial, investigational drug voclosporin proved tolerable and effective in treating both Hispanic/Latino and non-Hispanic/Latino populations with lupus nephritis (LN), with no unexpected safety concerns. A Phase 2 trial of investigational drug BIIB059 shows promise as a potential treatment for cutaneous lupus erythematosus (skin disease). The drug was safe and effective in study participants.  
In the largest LN study to date, Phase 3 trial data demonstrated that intravenous belimumab significantly and safely improved kidney function (43%) in study participants compared to standard therapy alone (32%). A separate study found the therapy also minimizes damage and prevents flares with minimal or no steroids in people with lupus. 
Patients taking another investigational drug, anifrolumab, exhibited consistent responses to the therapy irrespective of demographics, disease characteristics and standard-of-care medications. An update on investigational drug KZR-616 was also presented, with the therapy found safe and well-tolerated with 94% of participants showing improvements on at least 2 measures/assessments of lupus disease activity after 13 weeks on the drug.
Disease Management
New research highlighting better understanding and practices for helping people with lupus live better also took center stage at the conference. Scientists confirmed that fatigue, joint stiffness and pain are the most common patient-reported symptoms among people with lupus. These manifestations affect quality of life, emotional health, pain levels, vitality, and even lupus medications, with fatigue noted as the most common and most bothersome symptom.  A global survey of people with lupus and caregivers through the Addressing Lupus Pillars for Health Advancement (ALPHA) Project was presented, revealing that medication side effects – outside of the US (48%) compared to US (40%) – and lack of effective treatment are top challenges for people with lupus, including children. Findings also discovered that most respondents have never been asked by their physician to participate in a clinical trial, which was the top reason cited for not taking part in research. The Project is led by the Lupus Foundation of America, Tufts University School of Medicine Center for the Study of Drug Development and a Global Advisory Committee of 15 lupus experts. New recommendations for the management of lupus nephritis were also shared at the conference. Based on most recent evidence, changes include recommendations for treatment targets, use of glucocorticoids and calcineurin inhibitors (CNI), and management of end-stage-kidney-disease.
Exciting work is happening throughout the lupus research community. Follow Inside Lupus Research for the latest on treatment news, disease management and science.