Blog
November 15, 2023
Game On! To End Lupus at TwitchCon 2023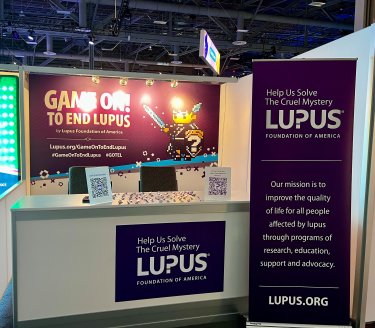 Last month, thousands gathered in Las Vegas to attend TwitchCon 2023, an annual convention that celebrates and showcases the culture, community and content creators associated with the live-streaming platform Twitch. Twitch is an interactive livestreaming platform where millions of people come together live every day to chat, interact, and make their own entertainment together - providing an opportunity for content creators to connect with their audience (community) through gaming, art, music, and more! Hundreds of exhibitors lined up their booths in the expansive expo hall to feature their programs and products amongst the tens of thousands of attendees, including the Lupus Foundation of America (LFA) to showcase Game On! To End Lupus (GOTEL) and how streamers can raise awareness and funds to help end lupus.
GOTEL is the LFA's annual charity streaming event, taking place during the first weekend of May as part of Lupus Awareness Month. GOTEL 2023 saw hundreds of content creators raise funds and awareness for lupus, resulting in over $190,000 raised for a cumulative amount of over half a million since the program's inception in 2020.
In anticipation of GOTEL 2024, scheduled for May 3-5, 2024, the Lupus Foundation of America was present at TwitchCon to network with thousands of content creators and raise awareness of the Foundation's mission and GOTEL. Foundation staff were joined by GOTEL organizers CocoConfession, 8BitDee, and 3llebelle, and past and present team members and moderators to connect with their respective communities and build upon the strong GOTEL stream team that has grown from 35 initial streamers to over 170 in just four years! Over the course of three days, thousands of attendees passed by the GOTEL booth to hear more about the LFA's mission, programs, and ways to get involved with GOTEL.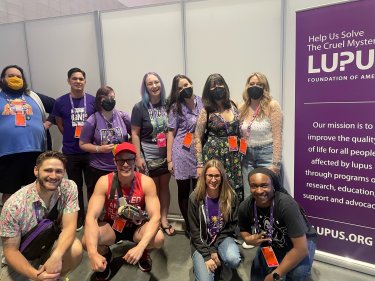 The Lupus Foundation of America provides helpful resources and support to content creators participating in GOTEL. Participants receive supporting assets such as informational short videos to play during their streams, talking points to engage their audience effectively and overlays to give their streams a unique GOTEL look. This collaboration empowers content creators to raise awareness about lupus and enables them to make a tangible impact in the fight against this challenging disease, and makes the event any content creator can participate in - no matter their level of experience.
If you're interested in being part of GOTEL in 2024, you can easily get involved. Join the GOTEL Discord to connect with fellow content creators and stay updated on all the latest developments. For more information and to stay informed about registration details, visit the Game On! To End Lupus webpage at lupus.org/GOTEL. Keep an eye out for registration information, which will be available in January 2024.