Blog
March 4, 2023
Celebrating Women's History Month 2023
In celebrating this year's Women's History Month, the Lupus Foundation of America highlights the unique stories of several Foundation ambassadors living with lupus. These women, along with our many other ambassadors, educate their communities about lupus, and share their stories to motivate and support the lupus community. Below, we have shined a spotlight on some of their inspirational stories.
Brielle Figueroa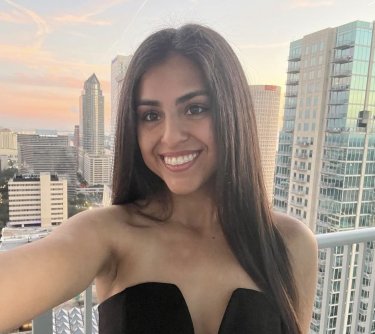 Months prior to her diagnosis, Brielle started experiencing hair loss, severe joint pain, swelling, rashes and more. Unable to endure the symptoms any longer, she went to the hospital, unable to move her body. Diagnosed with lupus in 2021, Brielle made it her mission to find a community.
As a new LFA ambassador, Brielle immediately jumped into her role of actively supporting the lupus community. She has utilized her social media platforms and podcast to spread awareness about her chronic illness – not only advocating for herself, but also for others who are battling lupus.
She hopes her journey can inspire others and provide hope to those who are struggling with this disease. Brielle explains, "I want my community to feel encouraged and empowered, so that no matter what curveballs are thrown your way in life, you trust the process, have faith and maintain that resilient spirit!"
---
Shanelle Gabriel
Shanelle was diagnosed nearly 20 years ago after a year of ignoring her knee and chest pain, severe headaches, achiness in the morning, and hair loss. Not knowing anyone else with lupus frightened Shanelle, and she knew she needed a support group to help her learn more about and cope with this disease.
Finding a support group and later a therapist completely changed her mindset. After connecting with the Lupus Foundation of America's support group in New York, she says that "it was helpful to know that people lived long lives, had children and continued through the same things I was beginning to deal with." She even went on to facilitate a support group in Harlem for almost a year.
Now, Shanelle spends a lot of time searching for new things to bring her joy, like her passion for and emotional outlet of spoken word poetry. She even runs a youth nonprofit, Urban Word, that gives youth access to the benefits of poetry.
---
Malaya Gaerlan
Most freshmen look forward to making new friends and adjusting to high school. But Malaya was diagnosed with lupus at the beginning of her high school career, after noticing visibly swollen hands, being unable to walk and sweating profusely. A series of blood tests, the week after visiting a pediatric rheumatologist confirmed her diagnosis.
Refusing to stand by idly, she focused on raising awareness so that finding a cure will one day be possible. Within weeks of her diagnosis, she contacted the Lupus Foundation of America Southern California Region to learn about how she could actively become involved with the community. Malaya has been fundraising for Walk to End Lupus Now for four years and has raised over $30,000. As not only an ambassador and National Youth Support Group facilitator, she also shares her story in congressional meetings each year – and plans to do so again in Washington, DC this April.
Malaya astutely tells us that "Not everyone touched by lupus can articulate their needs or is given the platform to do so. My voice is their voice, and together we can all be heard."
---
Linda Henderson-Wagstaff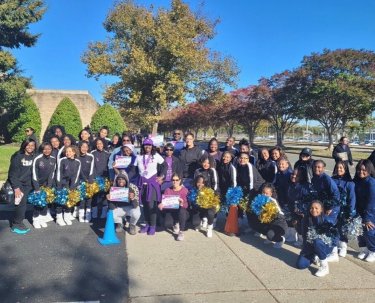 Diagnosed with lupus in 1995, Linda was told that she wouldn't live past her 25th birthday, but nearly 30 years later, she stands strong. After her diagnosis, Linda sought out how to be more actively involved in her local lupus community. She met someone on the Walk To End Lupus Now committee and quickly became involved with the event. She developed her own team, "Linda's Angels," and even hosted programs with her sorority step team to help raise money and awareness during Lupus Awareness Month in May. She says that her Walk team is her village and her motivation.
Her family, especially her son, helps keep her resilient. Linda was told that she couldn't have children after her diagnosis, but two years later, she gave birth to her son. While she wasn't able to have any more children, she is thankful for the son she has. He reminds her to stay strong, and she continually pushes forward for him.
---
Audrey Patterson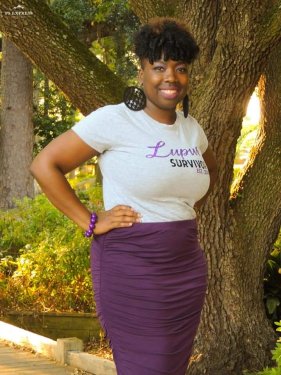 Thinking she had whiplash after a car accident, Audrey later learned that the pain and swelling in her limbs were symptoms of lupus. Her body ached unrelentingly and she continued to get sicker, to the point where she thought she was dying. After her family physician referred her to a rheumatologist, they learned that she has lupus in 2014.
A month after her diagnosis, she attended a Walk To End Lupus Now event. She decided that day that she would advocate for finding a cure for lupus and would educate others about the disease.
Audrey makes a habit of saying positive affirmations to herself daily and doesn't allow others to bring stress into her space to avoid the possibility of a flare-up. She encourages women who fight this disease every day to "surround yourself with people who support your journey and understand the challenges that you face daily."
---
Jaquel Patterson / Frances Patterson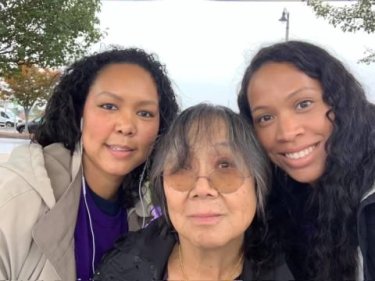 Jaquel became an ambassador because of her 77-year-old mother Frances, who lives with lupus. Frances was diagnosed at 50 years old in 1995 after difficulty eating, fatigue and physical weakness. She experienced pain in a different part of her body each morning upon waking.
Since her diagnosis, Frances has been involved with the Lupus Foundation of America in various ways – from donating funds and clothes to actively participating in her local Walk To End Lupus Now event with her family. Her daughter Jaquel is an LFA ambassador and Walk event organizer.
Frances works to stay healthy by consistently taking her medication and supplements, as well as being mindful of her food. She no longer feels pain in her hands and fingers like she once did. She advises other women with lupus to spread awareness and not to let lupus define who you are: "I don't let lupus limit my life!"
---
Geri Rodriguez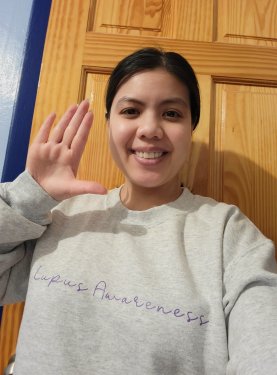 It took several doctor visits and worsening symptoms of joint and chest pain, shortness of breath and edema before Geri was diagnosed with lupus in her late 20s. No one in her family had lupus, so she turned to the internet to learn more about this disease. While there are numerous resources online, the Lupus Foundation of America became her one-stop shop for all things lupus-related.
When Geri was first diagnosed, she had a mix of emotions and didn't know what the future would hold. As time went on, she slowly began to accept her diagnosis and realized that lupus doesn't define who she is. She explains, "My lupus diagnosis was just a part of my story and I had the power to create my own happy ending."
In late 2020, Geri decided that it was time that she shared her lupus story on social media by creating an Instagram account specific to her lupus experiences. She found autoimmune disease communities online, where everyone comes together virtually and supports one another.
---
Addie Winans
A week after a doctor initially diagnosed her with leukemia, doctors determined that Addie's correct diagnosis was actually lupus at the age of 8. Two years later, a kidney biopsy confirmed her lupus nephritis diagnosis.
Despite her age, Addie has always been interested in politics and wants to use this passion to speak up for those living with lupus. When she and her mother heard about the Lupus Foundation of America's Advocacy Day, Addie immediately knew that she could make her voice heard for herself and other lupus warriors. The National Lupus Advocacy Summit this April will be her fourth time speaking to members of Congress about funding lupus research, removing barriers to treatments and addressing health disparities.
She wants people to know that "When I see talented women living their best lives despite having lupus, I know I can do the same." Even at 12 years old, Addie inspires all women with lupus to reach for their dreams.
---
Ninety percent (90%) of people living with lupus are women. Most people with lupus develop the disease between the ages of 15-44.
Throughout Women's History Month, please join us in celebrating and recognizing the many women impacted by lupus and those who have dedicated their time to improving the quality of life for those living with this cruel disease. Share your lupus story with us and make your voice heard!