Blog
October 16, 2023
Celebrating Hispanic Heritage Month: Understanding Lupus and Its Unique Impact on the Hispanic Community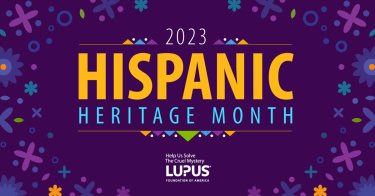 Hispanic Heritage Month is a time to honor the rich cultural contributions of Hispanic and Latino individuals in the United States. It's also a moment to recognize the unique challenges that some communities face, including the impact of certain health conditions like lupus. We want to shed light on how Hispanics are uniquely affected by lupus and share some valuable resources and information that can help raise awareness of lupus in the Hispanic community.
Unique Ways Lupus Impacts Hispanics
While lupus affects individuals of all ethnic backgrounds, research has shown that certain ethnic groups, including African American, Asian American, Hispanic/Latino, and Pacific Islander communities, are at a higher risk of developing lupus than others. It's estimated that 21 percent of those with lupus in the United States are Hispanic. Hispanic and Latino individuals, in particular, may face some distinct challenges when it comes to lupus:
Cultural Factors: Cultural differences can influence how lupus is perceived and managed within Hispanic communities. Raising awareness about the disease's impact on Hispanic individuals is crucial.
Access to Healthcare: Disparities in access to healthcare may affect early diagnosis and treatment for Hispanics with lupus. Advocacy for better healthcare access is vital. The Lupus Foundation of America is dedicated to addressing health disparities in lupus.
Language Barriers: Language barriers can hinder effective communication with healthcare providers. That's why it's important to the LFA to have resources in Spanish on our National Resource Center on Lupus to help people with lupus who speak Spanish to navigate their disease. The Lupus Foundation of America recently held the first ever Spanish Lupus & You in September, which focused on diagnosis, symptoms, and more. A recording of this event can be found here.
Family and Community Support: The strong sense of family and community in Hispanic cultures can be both a source of support and potential stress for individuals living with lupus. Finding a support group of individuals going through a similar journey can serve as a helpful outlet for the difficulties that come with a lupus diagnosis. More information on support groups available through the LFA can be found below.
Resources for Hispanics Living with Lupus
The Lupus Foundation of America offers valuable resources and support for individuals of Hispanic heritage living with lupus. The National Resource Center on Lupus has hundreds of resources that have been translated into Spanish. One such resource is our new 12-week email series created in Spanish, Tome Control, which provides information, tips, and resources tailored to the needs of Hispanic individuals dealing with lupus.
Join the Lupus Community
Connecting with others who share similar experiences can be a powerful coping mechanism for those living with lupus. The Lupus Foundation of America offers a network of support groups, including a dedicated group for Hispanics with lupus. These groups provide a sense of community, understanding, and a safe space to share your journey.
During Hispanic Heritage Month, let's celebrate the resilience and strength of Hispanic and Latino individuals living with lupus. Together, we can raise awareness, provide support, and advocate for a brighter future for all those affected by this complex autoimmune disease.
---
Celebrando el Mes de la Herencia Hispana: Entendiendo el Lupus y su Impacto Único en la Comunidad Hispana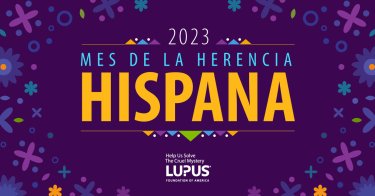 El Mes de la Herencia Hispana es un momento para honrar las ricas contribuciones culturales de los hispanos y latinos en los Estados Unidos. También es un momento para reconocer los desafíos únicos que enfrentan algunas comunidades, incluido el impacto de ciertas condiciones de salud como el lupus. Queremos arrojar luz sobre cómo los hispanos se ven afectados de manera única por el lupus y compartir algunos recursos e información valiosos que pueden ayudar a crear conciencia sobre el lupus en la comunidad hispana.
Maneras únicas en que el lupus afecta a los hispanos
Si bien el lupus afecta a personas de todos los orígenes étnicos, las investigaciones han demostrado que ciertos grupos étnicos, incluidas las comunidades afroamericanas, asiáticas americanas, hispanas/latinas y de las islas del Pacífico, tienen un mayor riesgo de desarrollar lupus que otros. Se estima que el 21 por ciento de las personas con lupus en los Estados Unidos son hispanos. Las personas hispanas y latinos, en particular, pueden enfrentar algunos desafíos distintos cuando se trata del lupus. Estos desafíos pueden incluir:
Factores culturales: Las diferencias culturales pueden influir en cómo se percibe y maneja el lupus dentro de las comunidades hispanas. Es importante crear conciencia sobre el impacto de la enfermedad en las personas hispanas.
Acceso a la atención médica: Las disparidades en el acceso a la atención médica pueden afectar el diagnóstico y tratamiento tempranos de los hispanos con lupus. La promoción de un mejor acceso a la atención médica es vital. La Fundación de Lupus de América (LFA, pos sus siglas en inglés) se dedica a abordar las disparidades de salud en el lupus (en inglés).
Las barreras del idioma: Las barreras del idioma pueden dificultar la comunicación efectiva con los proveedores de atención médica. Por eso es importante para LFA tener recursos en español en nuestro Centro Nacional de Recursos Sobre Lupus para ayudar a las personas con lupus que hablan español a navegar su enfermedad. La Fundación de Lupus de América celebró recientemente el primer seminario web Lupus & You en español en septiembre, que se centró en el diagnóstico, los síntomas y más. Una grabación de este evento se puede encontrar aquí.
Apoyo familiar y comunitario: El fuerte sentido de familia y comunidad en las culturas hispanas puede ser tanto una fuente de apoyo como de estrés potencial para las personas que viven con lupus. Encontrar un grupo de apoyo de personas que estén pasando por una travesía similar puede servir como un escape útil para las dificultades que conlleva un diagnóstico de lupus. A continuación puede encontrar más información sobre los grupos de apoyo disponibles a través de LFA.
Recursos para hispanos que viven con lupus
La Fundación de Lupus de América ofrece valiosos recursos y apoyo para personas de ascendencia hispana que viven con lupus. El Centro Nacional de Recursos Sobre Lupus tiene cientos de recursos que han sido traducidos al español. Uno de esos recursos es nuestra nueva serie de correos electrónicos de 12 semanas creada en español, Tome Control, que proporciona información, consejos y recursos adaptados a las necesidades de las personas hispanas que padecen lupus.
Únase a la comunidad de lupus
Conectarse con otras personas que comparten experiencias similares puede ser un poderoso mecanismo de afrontamiento para quienes viven con lupus. La Fundación de Lupus de América ofrece una red de grupos de apoyo, incluido un grupo dedicado a hispanos con lupus. Estos grupos brindan un sentido de comunidad, comprensión y un espacio seguro para compartir su travesía por el lupus.
Durante el Mes de la Herencia Hispana, celebremos la resiliencia y la fortaleza de las personas hispanas y latinas que viven con lupus. Juntos podemos crear conciencia, brindar apoyo y abogar por un futuro mejor para todas las personas afectadas por esta compleja enfermedad autoinmune.