On 10.16.21, Ohio joins the nation as we take Walk to End Lupus Now® completely virtual!
What is the Virtual Walk to End Lupus Now®?
The Virtual Walk to End Lupus Now® can be completed wherever you want. You can walk in your neighborhood, at a local park, or even on a treadmill.
Register and then gather your friends and family to decide on a route, and of course, how you will celebrate the success of helping the Lupus Foundation of America, Greater Ohio Chapter. 
Remember that 10.16.21 is a day to uplift and encourage the lupus patient in your life. Your dedication to the mission is a way to show your support. This is the day to honor our loved ones with lupus. Do it for your parents, siblings, aunts, uncles… whomever that special person is in your life, walk for them. 
How it Works
1.   Register. Choose the Kickstarter registration level to earn your purple face mask. 
2.   Fundraise. We provide you with all the tools you need to fundraise for lupus research, support, and education services all while earning awesome incentives along the way.
3.   Spread the Word. Invite friends, family, and coworkers to join your team and fundraise!
4.   Participate. Join us on October 16 as we unite as one lupus community for a great virtual event.
5.   Walk! Lace-up your shoes and walk wherever you are, as we take steps together to show our power!
Why I Walk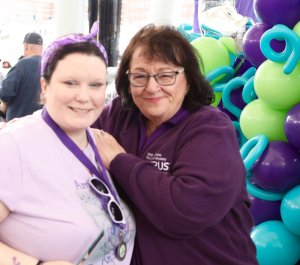 The Walk to End Lupus Now means coming together with my family and friends to show that none of us are in this fight alone. I'm proud to stand beside my fellow lupus warriors as we raise awareness and fundraise for this cause that is so important to so many of us.
Many Thanks to Our Presenting Sponsors