Personal Stories
Shannon Small: Walking Toward Acceptance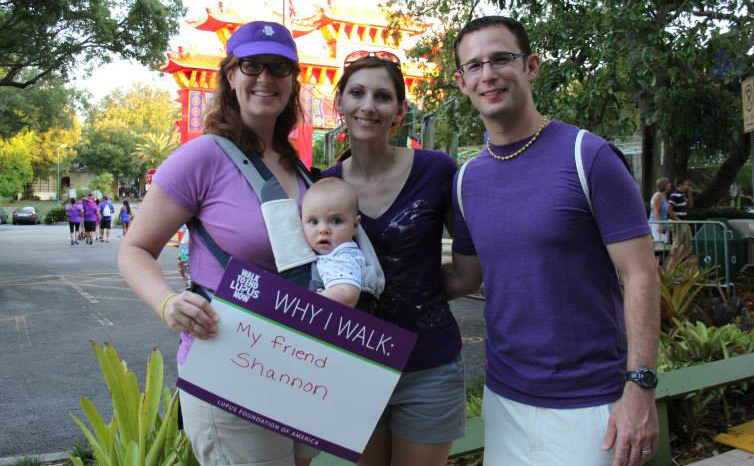 Shannon Small remembers all too well the day she was diagnosed with lupus.
"I really went through the stages of grief," she said. "I told my husband to leave me and I cut myself off from friends and family - I didn't handle it too well at first. But as time passed, I realized that I still had a life to live. I am still the same person; I just had to accept certain limitations."
Part of Shannon's acceptance process was to participate in the first Tampa Walk to End Lupus Now™ in 2011. She hasn't missed one since, and will also be participating in the first Walk event in Orlando this year.
"I walk to raise awareness. I walk for the comradery. I walk for those who can't. And I walk because (for now at least) I can," said Shannon. "Because lupus isn't a very well-known disease, I feel that it is important to raise awareness and I love to do what I can to help."
"The Walk-day experience is truly overwhelming.  To see so many people who really understand what you are going through on a daily basis is very emotional.  Unless you have lupus, it is a very difficult thing to understand.  I get teary eyed at least a few times at every walk.  There is so much love and support, it's something that everyone should try and attend."
For Shannon, the most challenging part of living with lupus is trying to maintain a level of normalcy – working full time, keeping up with friends and family and trying not to push herself too hard.
"My friends and family are the ones who have gotten me through the last six years," said Shannon. "My husband, David is the most amazing person and has been by my side, supporting and helping me (even when I insisted I didn't need any help)."
Those same friends and family join her every year to raise money for the Lupus Foundation of America as members of her Walk team, Yoda's Team Purple for Lupus.
"This year, we're registered for the Walks in Tampa and Orlando in 2016 and I created Facebook events for both.  I start by inviting local friends and family. Then, as it gets a little closer, I plan fundraising events. Over the past five years, we've baked dog treats, sold drawstring backpacks, sold chili and homemade chocolate," said Shannon. 
"Most recently, we did a wine tasting in October 2015. We had donations from local restaurants and shops to raffle off as well as a 50/50 raffle. Tt was the most successful fundraiser we've ever had!"
Shannon's advice for other people with lupus who want to make a difference is to not be afraid to tell your story.
"I can't tell you how many people I have met who have family members or friends who have also had lupus," she said. "Talk to friends, family, co-workers. Every donation is important; it doesn't matter if it's 5 dollars or 500 dollars."