Personal Stories
Rick Lyons: Walking Toward Hope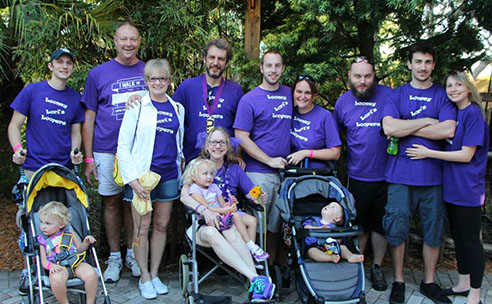 At first it wasn't too much of an issue when my wife Lori was diagnosed with lupus, but as the disease progressed, it took over our lives. For the past 20 years, lupus has affected everything from what we can do day-to-day, where we live, and even my job.
In 2004, the disease attacked Lori's kidneys and she had to stop working. We were financially devastated. We lost her income the same time we had two boys entering college. Eventually we had to downsize to a house without stairs so Lori doesn't have to walk very far.
Lupus has forced us to miss many family gatherings. We have had many gatherings where we knew she would be sick afterwards. We used to host Thanksgiving for 25 people. Lori would end up in bed for the next week. One year, she ended up in the hospital after our family Christmas.
I don't remember how we initially heard about the Walk to End Lupus Now. I was involved with the Lupus Foundation of America's Caregiver Task Force at the time we first participated. We knew it was one way to do SOMETHING that may help. It's frustrating watching this disease slowly attack someone you care about and not being able to do anything about it, but raising funds to support putting an end to this horrible disease made me feel like we were making a difference.
We ended up raising $1,700 our first year. We were so overwhelmed at that first Walk. It was an unbelievable experience. We didn't raise enough to get a tent (we didn't even know about such things then), but decided our goal would be to qualify for one the following year. That year, we raised $8,500 and certainly earned our tent. The following year we raised $5,100, which is our goal again this year. 
A good way to start raising money for the Walk is to share your story. Writing our story breaks my heart each year but this year was especially brutal knowing all of the things Lori and I won't get to do with our young grandchildren, but we feel it's important for others to know what we go through. Lori is the most positive person; she always has a smile on her face. That's what people see and know. We need to drop the veil once a year and remind them that this disease is slowly killing her. It's hard on Lori, but she understands that sharing our story will help us gain the support that is needed to make a difference.
We share and remind friends and family just what our day to day life is and what we have gone through over the years. Two years ago, Lori went skydiving and we promoted it and shared the pictures and video with everyone who made a donation. We earned over $500 as a direct result of that effort. We had a corporate sponsor that donated $5,000 two years ago and last year we received a $1,000 donation from one of our doctors. This year, I will be doing an 80-mile bike ride to raise funds.
We could not do all that we do without the support of our family and friends. Every year we know there are those we can count on to help and donate. For many there simply aren't enough words to express how grateful we are for their support.
Register for a Walk event near you today by visiting WalkToEndLupusNow.org!