Personal Stories
Melany T. - Diagnosed at age 19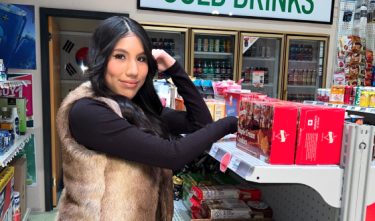 Hollywood dreams all while living with lupus.
My name is Melany, a recent college graduate from Georgia State University with a degree in Film/Media and Marketing. Growing up, I always had a passion for the creative arts. I used to love writing, acting, and playing music for my school's orchestra band. During my freshman year in college, I got diagnosed with lupus at the age of nineteen. I was lost, confused, and didn't know where the journey of my life would take me or if I would even finish college. Eventually, I would go on to graduate from college Magna Cum Laude and receive my first industry job with Marvel Studios and further on pursue more certifications in the film industry.
I've also had the opportunity to work in regional performing arts theatre to provide shows for my community. The last project I worked on was Kim's Convenience, a play that launched the successful Canada sitcom show on Netflix.
I'm sharing my story to inspire any young person out there battling this disease. I want anyone struggling with this disease attending college to know that there is life with lupus. Sure, it may take some time, there might be flare-ups. But, getting to that finish line makes it worth it. Ten times worth it, if you ask me.
My biggest advice would be to build a relationship with your doctors, pursue a career that you ultimately love, and always focus on eating right and taking care of your body. Listen to the signs that your body sends.
Just know that whatever it is you're going through, is not the end. It might actually be the beginning of a great breakthrough that inspires the course of your life. Forever a lupus warrior.