Personal Stories
Jackie Brown: Shining a Light on Lupus
Jackie Brown believes that knowledge is power – or, more precisely, self-empowerment.
That's why, when she was still in shock from her lupus diagnosis, she explains, "I asked my husband to bring me everything written regarding lupus, so that I could understand this disease and what symptoms I was going to incur."
Until the day of her diagnosis, she had never even heard of lupus. Now, she believes it's urgent to get the word out. "I feel we need more exposure, so that those who are not familiar with lupus have an opportunity to hear and see more of what this disease is about," she says.
Brown is in her 60s now, but she was in her 30s when first diagnosed with lupus. She considers her diagnosis a fortunate fluke, prompted by a delayed – and severe – allergic reaction to antibiotics prescribed for a kidney infection.
"Having this resource center keeps me hopeful that a cure is near"
The reaction happened during her daughter's second birthday party. Her hands swelled up, her temperature spiked to 103 degrees and her skin was covered with burns. Adding to the terror, Brown suffered temporary paralysis and loss of sight.
Since that unforgettable day, Brown has committed herself to learning as much as she can about lupus -- and to sharing that knowledge with others."Staying up-to-date with the advances in medicine and being knowledgeable about lupus motivates me to share my journey with others," she says.
She often turns to the National Resource Center on Lupus (Resource Center) for the latest research findings and updates on clinical studies.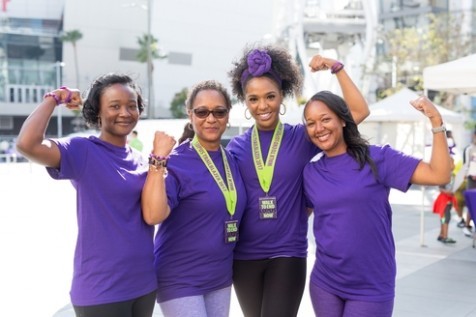 "Having this resource center keeps me hopeful that a cure is near," says Brown.
For newly diagnosed people, Brown goes out of her way to let them know they are not alone. She puts them in touch with the Lupus Foundation of America and often sends a "We Care" information packet that she put together highlighting key information from the Resource Center.
Brown feels fortunate to have unflagging support from friends and family. But when she does have questions or needs additional resources, she turns to Nicole Padilla, LFA Walk Manager, or Wendy Rodgers, who also is living with lupus and is an LFA volunteer ambassador – "two incredible lupus survivors and warriors."
Brown met both women a few years ago when her daughters registered for the Walk to End Lupus Now® in Los Angeles -- her Mother's Day gift.
Brown not only believes in the power of knowledge – she believes in the power of prayer. "I pray daily for more awareness," she says. "If more people knew or were aware of lupus I believe our light would shine brighter."