Personal Stories
Dan: The Long Road to Diagnosis - and Acceptance
In a way, Dan Baruah was relieved when he was diagnosed with lupus in 2014.
After five years of living with swollen joints and extreme fatigue, he finally knew what was wrong. But the middle-aged engineer and father of two sons couldn't fathom what lupus would mean for his family's future.
"I didn't know much about lupus at that time," He admits. Naming his illness was one thing. But learning to accept his diagnosis was another. He wrestled with the unknowns, and asked "Why me?"
On average, it takes nearly six years for people with lupus to be diagnosed from the time they first notice symptoms.
Lupus is called "the great imitator" because it may appear to mimic many other illnesses. To further complicate diagnosis, symptoms can come and go, and they are sometimes difficult to describe.
When the doctor pronounced "lupus," Dan was in shock. "I was very lost and very lonely because you feel like you're all by yourself," he says. "You don't know anyone who really understands you because lupus often is an invisible, mysterious disease that no one can see."
But as he went through the grieving process – mourning his old self – Dan had an epiphany of sorts. "For me, I felt, 'If I get out of this stage sooner I'll be able to handle my condition better.'"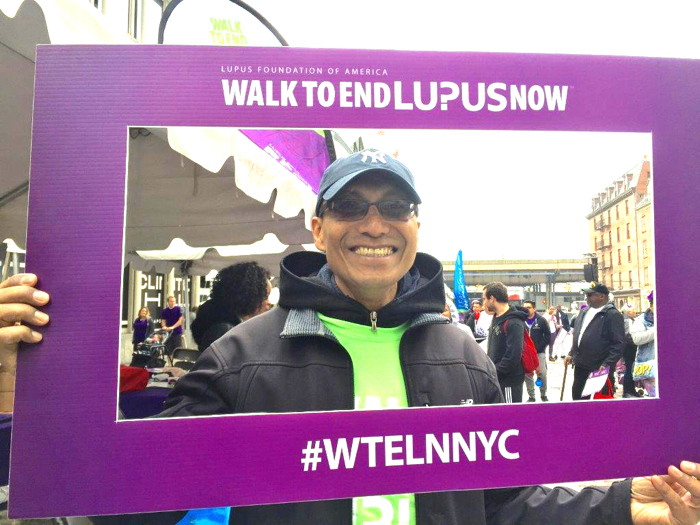 Since then, he's been working to adapt to his new normal, adjusting to physical, mental and emotional changes. Having reliable information from the Lupus Foundation of America has helped. So has his support network in New York City, where he lives.
Dan started attending as many support groups as he could. "Whenever I go to a support group, I feel like I'm in safe place where I can talk about my experience with people who know how I feel, what I'm going through," he says.
These days, Dan is feeling less alone – and more empowered. In addition to his participation in support groups, he trained as a volunteer Community Ambassador of the Lupus Foundation of America, traveling to other communities and sharing his experiences. He's also been active in the New York City Walk to End Lupus Now event.
To keep moving ahead, Dan focuses on the three L's, as he calls them: loving, laughing and living fully. And he fervently hopes to see a cure in his lifetime.