Personal Stories
Bonnie Kassel: "Taylor-made" reason to take a stand
Tireless advocate. Do-gooder. True believer. Loving mother.
Those phrases only begin to describe the passionate determination that drives Bonnie on behalf of her daughter, Taylor.
Bonnie became an outspoken advocate for lupus in 2012, when her then 12-year-old daughter, Taylor, was diagnosed with lupus nephritis.
The diagnosis confirmed Bonnie's maternal intuition, but not before Taylor had to endure many months of debilitating symptoms. First the butterfly rash, fever and hair loss. Then whooping cough, pneumonia and strep throat – simultaneously. Bonnie brought Taylor to many different doctors before she demanded the testing she knew was needed.
Since that day in 2012, Bonnie, her husband Todd and their family have continued to take a stand and make a difference – from their small community of Crystal Lake, Illinois all the way to Capitol Hill in Washington.
And these days, she often has many equally determined friends, neighbors and national supporters on her side. That includes daughter Taylor, now 20. She's already following in her mother's footsteps.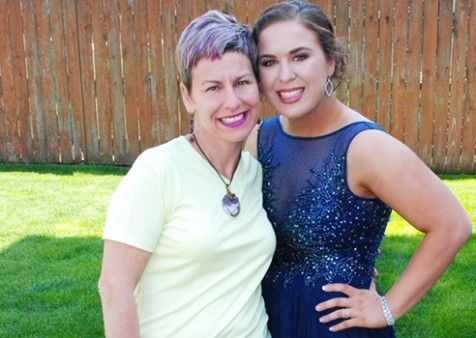 Bonnie Kassel and her daughter Taylor.
Bonnie's active involvement has taken many forms. In 2013, not long after Taylor was diagnosed, Bonnie set out to improve lupus awareness in her hometown. And she succeeded in a big way.
For five consecutive years, Bonnie chaired Crystal Lake's Lupus Awareness Day, raising well over $70,000 to fund lupus research.
"We're getting more national attention because this is the only place in the United States that has a whole town event, and the proceeds go to lupus," says Bonnie.
Often, the day kicks off with a big, purple splash: the water of Crystal Lake is turned to the color of wine. And then the entire town puts on a purple palette, from the beribboned trees to cupcakes and lights in store windows.
Buzzing with food vendors, music and donated goodies for the raffle, the festive event could be mistaken for a street party if it weren't for the Lupus Foundation of America booth on site. The local ice cream shop even created a flavor in honor of Taylor and her once-favorite pastime: Tay Tay's Home Run.
To pull it all off, Bonnie and Taylor created a volunteer team of event organizers, sometimes staffed by others with lupus. "We're trying to get more of the community involved," says Bonnie.
And she has – from her daughter's former softball team to the local group involved with the Walk to End Lupus Now® event: Taylor's Team. Bonnie says she's overwhelmed by the show of support – and proud of Taylor's growing advocacy.
Taylor found her own voice soon after attending the Lupus Foundation of America's National Advocacy Summit. Since then, she has attended several summits in Washington, D.C. and continues to stay engaged, sharing her story and joining her mother as an advocate and fundraiser.
Bonnie always hoped that her children would take up her cause to fight lupus one day. It looks like they already have.