News
September 11, 2018
Six Young Scientists Receive Award to Build the Next Generation of Lupus Researchers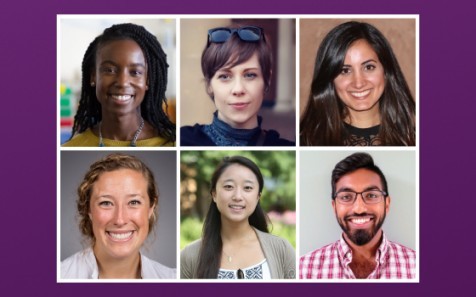 Today, the Lupus Foundation of America announced six recipients of its 2018 Gina M. Finzi Memorial Student Summer Fellowship Program designed to cultivate a life-long interest in lupus research in young scientists and build the next generation of researchers. The six awardees exemplify the Foundation's comprehensive approach to lupus research as they work on important studies on a wide range of topics including: quality of life, assessing the risk of heart disease, advanced drug delivery technologies, and innovative support systems.
"Our goal of the Gina M. Finzi Memorial Student Fellowship Program is to ensure we are cultivating an interest in lupus research with young scientists from the start – when they are pursuing their education, creating an important stepping stone for their future endeavors in lupus research," said Stevan W. Gibson, President, Lupus Foundation of America. "We tackle lupus from every direction, and our Finzi awardees represent this approach as their projects encompass a multitude of scientific areas – especially in critical areas where more work and researchers are needed."
The Finzi Fellowship Award program was established in 1984 to honor Gina M. Finzi, the late daughter of former Lupus Foundation of America president emeritus Sergio Finzi, Ph.D. The fellowship has supported nearly 200 students who have gone on to further success producing several publications in peer-reviewed journals, including Lupus, Arthritis and Rheumatism and European Journal of Immunology.
This year's Gina M. Finzi Memorial Student Summer Fellowship awardees are:
Marilyn Allen 
University of Maryland, Baltimore County
Study Title: Nanoparticle Encapsulated Antimalarial Drugs for Improved Lupus Nephritis Treatment
Mentor: Dr. Gregory L. Szeto
Alanna Hirz
The Regents of the University of California
Study Title: Measuring Resilience as a Key Psychosocial Indicator for Women with Systemic Lupus Erythematosus
Mentor: Dr. Perry Nicassio, PhD
Mitra Moazzami
University Health Network/University of Toronto
Study Title: Validity and Reliability of Patient Reported Outcomes Measurement Information System (PROMIS) Computerized Adaptive Tests (CAT) in Systemic Lupus Erythematosus
Mentor: Dr. Zahi Touma
Rachel Nelson
Yale School of Medicine
Study Title: Modulation of Antiphospholipid Antibody-induced Trophoblast Inflammatory Response by Infectious Components
Mentor: Dr. Vikki M. Abrahams
Jennifer Ra
Washington University School of Medicine
Study Title: Virtual Support: the key to bringing social support into the home
for patients with SLE
Mentor: Alfred H. Kim, M.D., Ph.D
Jagan Sivakumaran
University Health Network/ University of Toronto
Study Title: Assessment of the QRISK3, SLE Cardiovascular Risk Equation, Modified Framingham and Framingham risk calculators as predictors for development of atherosclerotic cardiovascular disease in patients with systemic lupus erythematosus
Mentor: Dr. Zahi Touma
To learn more about the 2018 Gina Finzi Memorial Student Summer Fellowship award recipients, click here.