News
June 19, 2019
News to Know from the 20th European Congress of Rheumatology 
The European League Against Rheumatism (EULAR), the organization which represents patients, health professionals and scientific societies of rheumatology of all the European nations, held its annual scientific congress in Madrid, Spain last week (#EULAR2019).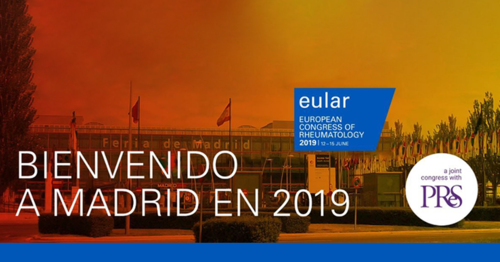 The 20th congress facilitated interactions among professionals involved in rheumatology, from across Europe and around the world. The latest discoveries in lupus science and disease management were shared, as well as several promising treatment studies. Our Inside Lupus Research team covered the congress, sharing research news that matters to you most via Facebook and Twitter. There were several exciting new developments reported from the front lines of the lupus science community:
Treatment News
Results from a Phase 1b study of investigational drug, KZR-616, indicate the therapy is safe and well tolerated by people with lupus. There is also evidence that the drug suppresses disease activity at certain time points in people with active systemic lupus erythematosus (SLE) on other stable therapies. Nonclinical research demonstrates that selective immunoproteasome inhibitors, like KZR-616, may promote broad anti-inflammatory response in animal models of several autoimmune diseases, while avoiding immunosuppression. A Phase 2 trial in lupus nephritis (LN) is expected to initiate during the second quarter of 2019.
Phase 2 results of Xencor's, XMAB®5871, did not meet its primary endpoint – the proportion of patients showing loss of improvements by day 225 on the drug. However, the drug did show some preliminary efficacy, as well as suppression of disease recurrence after treatment withdrawal, suggesting further research and evaluation is warranted. 
New investigational drug, BIIB059, shows the therapy is safe and tolerable. The drug is a monoclonal antibody that blocks BDCA2 cells which inhibit the production of major inflammatory mediators in SLE. The drug continues to be researched in SLE and cutaneous lupus. 
Results of two analyses from a Phase 2 study of ustekinumab (Stelara®) in people with SLE indicate the drug is effective in managing SLE activity and reducing flares at one-year. The first analysis concluded long term results were confirmed with a 4-fold decrease in the rate of severe flares with Stelara vs placebo. The second additional analysis of biomarker data showed that people who responded to Stelara had durable reductions in IFN-γ protein levels relative to baseline – a finding which was not observed in patients who did not respond to Stelara or who received placebo. The drug is currently in phase 3 to evaluate efficacy.
Affirmation
Ongoing studies of belimumab (Benlysta®) confirmed the efficacy of the treatment. The latest study examined the long-term effectiveness of intravenous (IV) belimumab administered in addition to standard of care therapy for lupus. Patients followed in the study received belimumab for up to 13 years, and the percentage of patients with adverse events each year remained stable or decreased while receiving the treatment. Normal blood IgG levels were maintained in the majority of patients over the study, and the rate of infections remained stable.  
Additionally, SLE Responder Index (SRI) scores increased from years one to 12, while glucocorticoid dosage decreased over time while on the drug. These findings support that the drug offers the opportunity to reduce steroid dosage with a good safety profile.
With many promising new therapies on the horizon, stay with Inside Lupus Research for updates on these and other treatment news.