News
May 1, 2018
New Study Finds Lupus is a Leading Cause of Death Among Young Women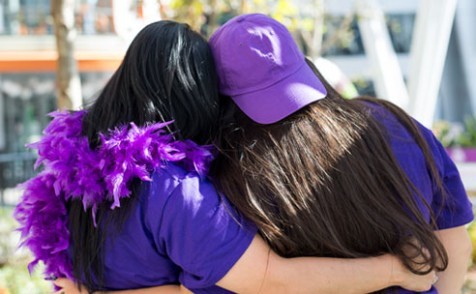 A recent study led by UCLA researchers found that lupus is among the leading causes of death in young women. Despite this and that an estimated 1.5 million Americans are affected, lupus remains a poorly understood and underfunded disease, which poses a critical threat to finding a cure. May is Lupus Awareness Month, and the Lupus Foundation of America is urging the public to join the nationwide effort to raise awareness and funds to bring an end to this devastating and cruel disease that impacts millions of families around the globe.
The study, "Lupus – An Unrecognized Leading Cause of Death in Young Women: Population-based Study Using Nationwide Death Certificates, 2000-2015," led by UCLA researchers, found that lupus was among the top leading causes of death in females ages 5-64 and was the fifth ranked cause of death among black and Hispanic women ages 15-24, after excluding the three common external injury causes of death from analysis. These findings demonstrate that lupus is a concerning public health issue and stresses the need for more funding to be dedicated to lupus research, specifically for children and teens. Often, those in this age group with lupus are at a greater risk for more severe and life-threatening consequences of this disease.
"This eye opening study funded by the Lupus Foundation of America truly shows that we need better treatment options for children and teens as well as all those living with lupus. Because of this, we will be dedicating all funds from our 24 hour fundraiser, 'Put on Purple Day' on May 18, toward the Michael Jon Barlin Pediatric Research Program, which supports research into innovative and effective therapeutic treatment options for children with lupus," said Sandra C. Raymond, CEO of the Lupus Foundation of America. "We're asking all Americans to Go Purple this May to spread awareness, raise funds and take part in the fight against lupus."
While the impact of this disease is high and widespread, nearly two-thirds of the public knows little or nothing about lupus beyond the name. The symptoms of lupus are far-ranging and often mimic those of other diseases, making it challenging to diagnose and treat. People with lupus can experience everything from fatigue, skin rashes and hair loss to cardiovascular disease, strokes and kidney failure.
Lupus Awareness Month is a time to rally the public to bring greater attention and resources to ending the suffering caused by this disabling and potentially fatal autoimmune disease. This year some ways to show support for those fighting lupus include:
Be a fundraiser through Make Your Mark™, an online fundraising platform that allows people to fundraise in their own way. If someone has a love for cooking, biking, performing or even just getting together with friends for a good time, it can be fun way to raise money for lupus research and education.
Spread the word about lupus awareness month with fliers, social media posts and infographics to help others understand lupus and the devastating impact of the disease by leveraging our Awareness Toolkit.
Support Put on Purple Day! Participate in Put on Purple Day on May 18th by wearing purple, making a donation and telling people why it's important to pump up the purple and raise awareness of lupus.
For more ways on how you can get involved and join the fight, visit the Lupus Foundation of America's lupus awareness month website.