News
March 13, 2020
National Lupus Advocacy Summit Goes Digital!
The Digital National Lupus Advocacy Summit has replaced our in-person 2020 National Lupus Advocacy Summit. This new digital event will be an immersive online experience featuring a series of live programs and panels focusing on the latest in lupus research, navigating the healthcare system, how to participate in advocacy year-round, and more!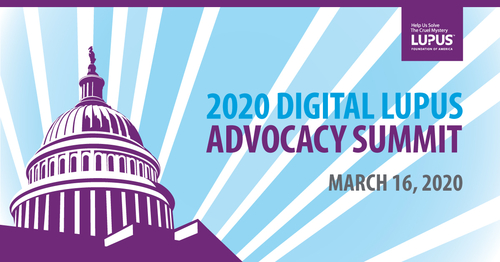 We are excited to invite YOU to attend this first-ever Digital National Lupus Advocacy Summit to be held Monday, March 16. 
In addition, attendees of the Digital Summit can connect with their fellow advocates within the event's online platform, find digital resources for managing lupus, and engage with our partners in a virtual Exhibit Hall. The Exhibit Hall features booths hosted by our partners in the fight against lupus, and will include information on lupus research, resources, surveys and interactive displays. 
Why Change the Advocacy Summit to Digital?
The health and well-being of people with lupus is our highest priority. With the growing concern about the coronavirus disease (COVID-19), and in alignment with recommendations from our health experts and the U.S. Centers for Disease Control and Prevention (CDC), we made the important decision to reimagine the in-person Advocacy Summit and change the format to an online event only. 
We remain committed to creating an amazing, powerful experience for all, and will not let anything (including the coronavirus) stop us from putting on this important event for people impacted by lupus! 
This new digital experience is open to everyone at no cost and will allow those impacted by lupus to participate in our Advocacy Summit from anywhere, without the risk of exposure to the coronavirus. As we work through the final details of this new digital platform, we will continue to share updates with you. In the meantime, you can also check out our Digital Summit FAQs page to learn more.  
It is important that you register in advance of the event so that you receive your login credentials for the online platform prior to the start of Monday morning's program.