News
October 21, 2018
Lupus Scientist Receives Prestigious Award; Young Investigator also Recognized for Contributions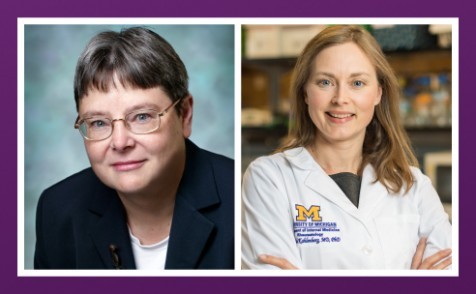 Today, the Lupus Foundation of America recognizes two leading scientists for their remarkable contributions to lupus research at the 2018 Evelyn V. Hess Reception to be held this evening in Chicago, Ill. during the 2018 American College of Rheumatology (ACR) Annual Scientific Meeting. This year, the Foundation will present the Evelyn V. Hess Award to Michelle Petri, M.D., M.P.H., of Johns Hopkins University and the Mary Betty Stevens Young Investigator Prize to J. Michelle Kahlenberg, M.D., PhD, of The University of Michigan.
Honoring Dr. Petri for a Lifelong Commitment to Lupus Research and Mentorship
The Evelyn V. Hess Award was established in 2006 and is given annually to recognize the exceptional contributions of a clinical or basic researcher whose body of work has advanced the understanding of the science of lupus treatment.
Dr. Petri, Director of the Hopkins Lupus Center and Co-Director of the Hopkins Lupus Pregnancy Center, will be honored for her extensive contributions and impact in the field of lupus over the last 30 years. She is the Principal Investigator of the Hopkins Lupus Cohort that includes over 2,000 participants. The Hopkins Lupus Cohort is a 30-year longitudinal study assessing the relationship between cardiovascular risk factors, gene markers and disease activity. The cohort has made important contributions to the understanding of corticosteroid toxicity in lupus, the role hydroxychloroquine plays in reducing cardiovascular risk factors and thrombosis, and the risk factors for atherosclerosis in lupus. In addition to this work, she is also known for her collaboration with fellow experts and her role in developing lupus disease activity measures such as the Physician Global Assessment and Lupus Activity Index. Throughout her career, Dr. Petri has mentored students, residents, fellows and faculty – something that she continues to do in order to support and inspire the next generation of lupus researchers.
"I'm honored to receive the Evelyn V. Hess Award from the Lupus Foundation of America. Dr. Hess reviewed one of my first grants – a Lupus Foundation of America grant to start the Lupus Pregnancy Center – and, thanks to her and the Foundation, we now have over 500 successful pregnancies and counting," said Dr. Petri. "I accept this award on behalf of my patients who banded together with me long ago to form the Hopkins Lupus Cohort to study the outcomes of lupus. The cohort has helped to change the landscape of lupus treatment."
Celebrating the Outstanding Contributions of Dr. Kahlenberg to Lupus Research
Established in 2009, the annual Mary Betty Stevens Young Investigator Prize recognizes the remarkable accomplishments of an investigator in the early stages of their lupus career and memorializes Dr. Stevens' outstanding contributions to lupus research throughout her career.
Dr. Kahlenberg has made substantial contributions to the field of lupus-related skin diseases. She is the principal investigator on an ongoing study analyzing how specific chemicals in lupus skin contribute to skin inflammation. Dr. Kahlenberg is also running another study investigating how these chemicals regulate inflammation in response to ultraviolet (UV) light. These studies will ultimately shed light on the factors that lead to the development of systemic autoimmunity. In addition, she is collaborating on work to study the traits in skin diseases that may explain why women are at higher risk of developing lupus. She also manages and mentors a laboratory team of undergraduate and graduate students, research fellows and medical students that study the factors that trigger skin inflammation flares in systemic and cutaneous lupus.
"I have seen many talented lupus researchers receive this award, and to be included in that group is an enormous honor that is truly humbling," said Dr. Kahlenberg. "My lupus patients motivate me and drive the work I'm doing every day. Some of them suffer from the symptoms of the disease itself, while others suffer from the side effects of treatments. We need to do better to understand the reasons for the disease so that we can have more effective and better treatments to stop it."
Learn more about the Evelyn V. Hess Award, the Mary Betty Stevens Young Investigator Prize and our 2018 recipients.