News
November 15, 2022
Lupus Research News from ACR's 2022 Scientific Meeting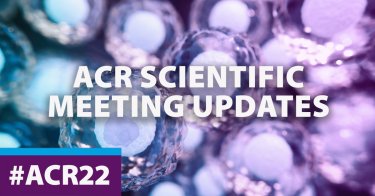 The American College of Rheumatology's (ACR's) annual meeting always promises exciting updates in lupus science, and this year was no exception. From November 10 – 14, world experts in lupus research, treatment, care and advocacy convened to share the latest news and signal future directions for the field.
The Lupus Foundation of America (LFA) was a proud supporter of several studies presented at this year's ACR Convergence. Our Inside Lupus Research team covered the conference, and we've brought you the biggest highlights below.
Lupus Treatment News
2022 was a year of tremendous progress in lupus drug development, from emerging therapies to treatment strategies for targeted populations. For example, Dr. Jane Salmon, presented preliminary research findings from her IMPACT Study, supported by the LFA, demonstrating the safety of certolizumab during pregnancy in women with or without lupus who have lupus anticoagulant  present in the blood or have antiphospholipid syndrome.
Other exciting lupus treatment news included:
Patient-Centered Research from LFA and Partners
LFA shared novel research findings and program insights from its online community LupusConnect™. The virtual forum offers a space where individuals with lupus and their loved ones can engage with others like them to share experiences, find emotional support and discuss practical insights for coping with the daily challenges of the disease.
In the abstract, LupusConnect: A 24/7 Online Lupus Support Community, LFA investigators presented popular topics discussed by more than 18,000 community members with a self-reported connection to lupus from 2017 through 2022. The top terms discussed across both US and non-US members were lupus, pain, and symptom(s). During the pandemic, community membership and engagement remained strong, underscoring a need for connection within the lupus community.
LFA also shared research in partnership with Systemic Lupus Erythematosus International Collaborating Clinics (SLICC) and ACR. This ongoing collaboration is aimed at updating the SLE organ damage index, which is a tool used to predict damage accrual for people with lupus. The current project focuses on identifying specific measures that reflect organ damage in adult, young-adult and pediatric populations living with lupus. Hundreds of lupus experts from around the world have now identified 220 unique measures for 14 organ systems, providing future researchers and healthcare professionals an even more robust system for accurately predicting damage accrual. The project demonstrates the importance of including large, diverse groups for such processes to ensure an inclusive breadth of viewpoints are considered.
As a patient-facing advocacy organization, the LFA has also been working on the Treatment Response Measure for Systemic Lupus Erythematosus (TRM-SLE) project, providing guidance on the development of a new clinician-reported outcome measure for lupus clinical trials and ensuring the patient voice is incorporated. Dr. Kathryn Connelly, who co-leads the work, discussed the project and how it aims to improve the measurement of treatment benefits in future lupus trials.
Novel Approaches to Lupus Research & Care
Much of the research shared at this year's conference explored new ways of approaching lupus science and patient outreach, care, and education. One study demonstrated that telemedicine (medical care provided remotely) can offer an effective method for people with lupus to seek care, resulting in fewer missed healthcare appointments and increased lab use. The findings suggest telemedicine may be a potential strategy to improve continuity of care within the lupus community, especially among those with barriers to healthcare access.
In fact, a separate study assessed the impact of adapting the Treatment and Education Approach for Childhood-Onset Lupus (TEACH) program to be delivered remotely. Researchers found the remote format promoted high retention rates, and children who completed the program benefitted from a reduction in fatigue, mood symptoms and pain.
The novel genomics-based web tool MyPROSLE was presented at the conference. This cutting-edge tool analyzes various data, including the genetic information of people with lupus, and researchers demonstrated that that disruptions in certain gene groupings are strongly associated with specific lupus symptoms and areas of disease activity., The tool is intended to help physicians determine more individually tailored treatment options for each patient.
Health Disparities within Lupus
The science continues to show there are significant gaps in disease management and outcomes along racial, ethnic and socioeconomic lines. One study found that Black people with lupus are less likely to take medications as needed. Compared to White people with lupus, Black people faced more barriers to following their prescribed medication regimen and reported greater mistrust about medications.
Another study found that people with SLE and vulnerable socioeconomic and home environments are more likely to be prescribed higher doses of prednisone, a drug which can contribute to a higher burden of damage. Socioeconomic status was measured by income, poverty, employment, education; and household composition was measured by age, single parenting, and disability.
The latest research urgently highlights the need for more strategically targeted efforts to improve access to care, treatment and disease management education in underserved and under-represented communities.
We are excited to be a part of the energy and passion driving the lupus community forward toward better treatments, disease outcomes and ultimately a cure. Keep your finger on the pulse of developing and life-changing lupus research and follow the Lupus Foundation of America's Inside Lupus Research for breaking news and important updates.