News
December 1, 2022
Lupus Foundation of America Awards Four Grants Supporting Early Career Scientists, Funding Critical Areas of Research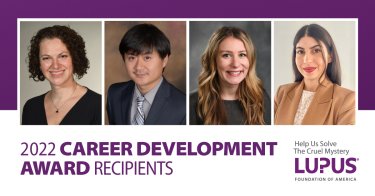 The Lupus Foundation of America is pleased to announce the recipients of the 2022 Gary S. Gilkeson Career Development Award (CDA). The two-year grant supports early career scientists studying important areas of lupus research, while providing mentorship and guidance, helping continued professional growth that builds the lupus research field.
The 2022 recipients are:
Tala El Tal, MD, Hospital for Sick Children
Yevgeniya Gartshteyn, MD, Columbia University
Rufei Lu, MD, PhD, The Regents of the University of California, San Francisco
Rachel Randell, MD, Duke University
"The Lupus Foundation of America's Gary S. Gilkeson Career Development Award continues to play an important role in growing the number of lupus-focused researchers by supporting them with funding and mentorship during this pivotal time in their career. These early career scientists bring a fresh perspective and drive to lupus research that have the promise to lead to the next breakthrough, a better understanding of lupus and innovative treatments," shared Karen H. Costenbader, MD, MPH, Chair of the Lupus Foundation of America's Medical-Scientific Advisory Council.
This year's grantees will focus their research on pediatric lupus, neuropsychiatric lupus and cognitive challenges, and potential new treatment pathways. Each grantee works with an established clinical scientist as a mentor.
"The Lupus Foundation of America's Gary S. Gilkeson Career Development Award encourages young investigators to engage in lupus research early in their careers, setting the stage for their long-term commitment in the field," shared Laura Schanberg, MD, professor of pediatrics, Duke University Medical Center, one of this year's grantee mentors. "The grant not only provides the opportunity and funding for young scientists to pursue research, but it ensures they receive the support and guidance needed from experienced mentors."
The 2022 Career Development Award recipients are committed to advancing the field by studying the following important areas of lupus research:
Each research study by the CDA grantees will strategically advance the Foundation's research agenda, which includes serving as the leader in supporting childhood lupus research. Established in 2006, the LFA's Michael Jon Barlin Childhood Lupus Research Program is the first and only national childhood lupus research program, and calls on some of the greatest minds in the field to address the most urgent challenges in this area of medicine.
Learn more about the Gary S. Gilkeson Career Development Award and its 2022 grantees, here.