News
October 1, 2018
LFA Appoints Stevan W. Gibson as President and CEO; Dr. Susan Manzi Elected Board Chair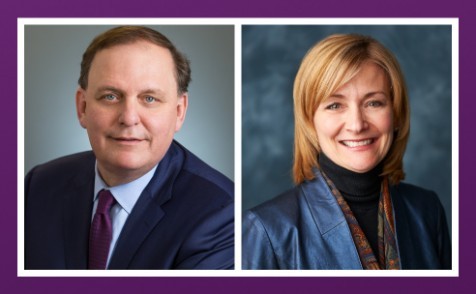 The Lupus Foundation of America, the national force devoted to solving the mystery of lupus, today announced the appointment of Stevan W. Gibson as president and chief executive officer and Susan Manzi, M.D., M.P.H., as board chair. Both were elected at the Foundation's Board of Directors meeting in June, and begin their announced roles today.
Gibson joined the Foundation last fall as president, and in his new role as president and CEO, he will focus on accelerating the research pathway toward better treatments and a cure for the disease while growing the Foundation in new and innovative ways. He will also continue to raise the profile of lupus on the nation's health agenda through government advocacy and awareness initiatives.
Gibson takes over from Sandra C. Raymond, who provided visionary leadership for the Foundation for the past 17 years and will remain with the organization as a senior advisor.
"There has never been a more hopeful time to lead the Lupus Foundation of America," said Stevan W. Gibson, president and CEO, Lupus Foundation of America. "Under Sandra's leadership, our community of lupus researchers, people with lupus, advocates and supporters have made tremendous progress toward our mission to end lupus.  In my new role, I'm eager to leverage the innovative work we are spearheading to accelerate lupus research and drug development while providing each person living with lupus the resources they need to manage the life-altering impact of this disease."
Gibson brings to the Foundation a robust background in executive management experience from the private, public and social sectors. During his nearly 20 years with The ALS Association, where he served as chief mission strategy and public policy officer, he led efforts that resulted in increased funding for ALS research, improved access to care for those living with ALS and expanded benefits for veterans with the disease.
Dr. Susan Manzi is a lifelong, devoted researcher and clinician focused on lupus. She is co-director of the Lupus Center of Excellence, chair of the Medicine Institute at Allegheny Health Network, and has served the last 15 years as a member of the Lupus Foundation of America's Medical-Scientific Advisory Council.
Dr. Manzi also has served as the Foundation's Medical Director since 2016, and is recognized nationally and internationally as a leader in lupus patient care and research, and a pioneer in the scientific investigation of cardiovascular disease in people with lupus. She brings to the Board an understanding of the Foundation's history, a mutual commitment to putting patients first and a shared vision for the organization's future as it accelerates the momentum in lupus research.
"It's an honor to be appointed to the Lupus Foundation of America's national Board of Directors as board chair at such an important time in lupus research," said Susan Manzi, M.D., M.P.H., chair of the Medicine Institute at Allegheny Health Network. "I've had the pleasure of being a part of the Foundation for many years working closely with the dedicated staff under Sandra's leadership. The Lupus Foundation of America has a track record of boldly taking on the toughest challenges in lupus diagnosis, care, support and treatment and I'm thrilled to continue this work with Stevan leading us. It's without a doubt that he will work tirelessly to improve the lives of those impacted by lupus."
Read a letter from outgoing Chair of the Lupus Foundation of America Board of Directors, Conrad H. Gehrmann as he discusses outgoing CEO, Sandra Raymond's accomplishments during her 17 years with the Foundation and discusses the future with Stevan Gibson and Susan Manzi, M.D., M.P.H.