News
May 20, 2019
House Defense Subcommittee Doubles Funding for Lupus Research Program
UPDATE: On May 21, the House of Representatives' Committee on Appropriations approved the fiscal year 2020 Defense funding bill previously passed by their Defense Subcommittee, including $10 million for the Lupus Research Program at the Department of Defense.
The U.S. House of Representatives Appropriations Defense Subcommittee has released details of its Fiscal Year 2020 Department of Defense (DoD) Appropriations bill, which includes $10 million in funding for the Lupus Research Program at the DoD in 2020! 
The Subcommittee advanced the bill on Wednesday, and if enacted into law, it would double funding from 2019 to bring the four-year funding total for the Lupus Research Program to $25 million, and increase the DoD's total commitment to lupus research to over $46 million!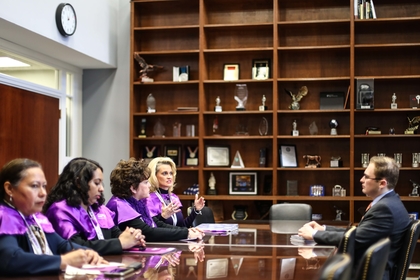 The Subcommittee's action once again demonstrates the power of lupus advocates who throughout the year requested increased funding for the DoD program, including during the Lupus Foundation of America's National Lupus Advocacy Summit in March. 
The Chair of the Foundation's Board of Trustees, Dr. Susan Manzi, and former Board Chair Cindy Coney, who is living with lupus, both serve on the Lupus Research Program's Programmatic Panel, which provides strategic direction for the program to help ensure it is supporting research that will advance the field, and lead to breakthroughs in identifying the causes of lupus and how it can more effectively be diagnosed and treated.  
 
The Lupus Foundation of America led the work toward securing a lupus-specific program at the DoD beginning in 2003, and ultimately with the help of advocates worked with Congress to establish the program in 2017. Take a look at a historical timeline of the Foundation's advocacy to establish the Lupus Research Program.
Thank you to everyone who engaged with their representatives this year, including the more than 350 advocates who participated in person and thousands more online during the 2019 Summit. 
We would also like to thank the Congressional Lupus Caucus for championing our cause on Capitol Hill, especially the Caucus Co-Chairs, Representatives Bill Keating (D-MA), Eddie Bernice Johnson (D-TX) and Peter King (R-NY). Additionally, we sincerely appreciate the leadership of Defense Subcommittee Chairman Pete Visclosky (D-IN) and Ranking Member Ken Calvert (R-CA) as well as Appropriations Committee Chair Nita Lowey (D-NY) and Ranking Member Kay Granger (R-TX).
Next Steps
The bill now heads to the full House of Representatives for a vote. The Senate Appropriations Committee still must act on its version of the legislation. Please make sure you are signed up as a lupus advocate so that you know when your outreach to Congress can make the most difference!