News
January 30, 2023
Global Experts Report a Lupus Spectrum Definition May be Needed to Improve Outcomes in People Living with the Disease
Through the Addressing Lupus Pillars for Health Advancement (ALPHA) Project, a global initiative spearheaded by the Lupus Foundation of America (LFA), a Global Advisory Committee (GAC) of lupus experts report that lupus disease ambiguity is negatively impacting people with lupus. A complex and debilitating autoimmune disease, lupus affects people in different ways, resulting in people seeing multiple doctors and spending months or years seeking an accurate diagnosis. In a new paper, "Lupus spectrum ambiguity has long-term negative implications for patients," published in Lupus Science & Medicine, experts discuss how moving toward the development of a lupus spectrum definition may help address critical health care obstacles facing people with lupus and improve the time to diagnosis.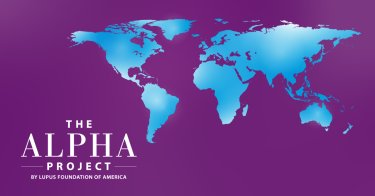 "Driven to improve lupus outcomes for people across the globe living with the disease, the ALPHA Project's GAC continues to develop essential, data-driven guidance to help improve lupus care and treatment, and potentially get us closer to a cure," says Susan Manzi, MD, MPH, report author and Lupus Foundation of America Medical Director and Chair, Allegheny Health Network Medicine Institute and Director, Lupus Center of Excellence. "Our research, analysis and discussions have identified the need for a better understanding of the natural history of this disease, a clearer definition of lupus, and application of biotechnology advancements to assist with accurate and timely diagnosis."
Through a series of virtual meetings, the ALPHA Project clinical care team GAC members, which include lupus physicians, biotechnology experts, patient advocacy group representatives from the LFA, and advocacy/government consultants, explored the causes and consequences of ambiguity in the definition of lupus, including diagnostic delays.
Their analysis of patient survey data, literature reviews and patient testimonials revealed that:
Based on data from the Lupus Foundation of America' Research Accelerated by You (RAY) Registry as well as other sources, lupus can take up to six years or longer to diagnose.
These delays in diagnosis can have long-term ramifications and lead to premature death.
There are no clear diagnostic criteria for lupus, only systemic lupus erythematosus (the most common and serious type of lupus) classification criteria.
Defining the lupus spectrum may provide opportunities for reduced time to diagnosis.
To move towards a spectrum definition of lupus, experts agree the following steps are likely needed:
Leverage the professional networks of medical associations to implement provider training, share relevant updates, and improve clinical referral processes.
Leverage emerging research and work with the US Food and Drug Administration and other global regulatory health agencies to consider the expansion of the definition of lupus for drug development efforts.
Consult with and build consensus amongst stakeholder groups across the lupus global landscape.
Conduct additional research on the natural history of lupus and in-depth biomarker studies.
In 2019, the LFA launched the ALPHA Project, a comprehensive, multi-phase, global consensus initiative aimed at identifying and addressing the most pressing barriers to improving lupus outcomes. To date, the GAC has identified key barriers to improving lupus outcomes, as well as identified and prioritized actionable solutions for three overarching issues: clinical care, drug development and access to care. Now in its solution implementation phase, this newly published clinical paper will help to operationalize the highest priority solutions for addressing barriers to clinical care, drug development and access to care for people with lupus.
For more information on the ALPHA Project and to follow ongoing developments visit lupus.org/ALPHA.