News
June 23, 2023
Elevating the Male Lupus Voice During Men's Health Month
Lupus is generally thought of as a women's disease due to its disproportionate occurrence in that group. Only around ten percent of lupus cases involve men, causing that demographic to sometimes feel even more misunderstood. This can lead to challenges and misconceptions about the disease, making the importance of elevating men with lupus evermore crucial.
In honor of Men's Health Month 2023, we wanted to highlight some of the ways lupus impacts men, resources of support and messages of inspiration from male lupus warriors.
Lupus is called the mysterious disease because it manifests itself in many ways. Some studies have shown that some symptoms of lupus are more pronounced in men and can include:
Low blood count
Cardiovascular (heart and blood vessels) complications
Unexplained fever and weight loss
Antiphospholipid antibodies (which can increase the risk of blood clots)
Renal (kidney) disease
Serositis (inflammation of the serous membrane that often causes chest pain when taking a deep breath)
 
Other common signs and symptoms of lupus can include:
Extreme fatigue
Pain or swelling in the joints
Swelling in the hands, feet, or around the eye
Headaches
Although it is unknown what specifically causes lupus, it is common for lupus to run in families. It is also known to occur more in certain ethnic groups -- including African American, Asian American, Hispanic/Latino, and Pacific American -- who are at higher risk for developing lupus than the rest of the population.
While men and women experience many of the same common lupus symptoms, there are some ways men are uniquely affected. Treatment for lupus, for example, in men is nearly identical to treatment in women. However, some common medications used to treat lupus, such as cyclophosphamide (Cytoxan®), can affect sperm counts.
It is important to consult with a doctor to determine the appropriate care plan for your specific case. Read more about lupus treatment here.
Oftentimes, confiding in others is an effective way to cope with living with lupus. Finding a support group of others going through similar experiences can be a great way to cope with the difficulties of lupus, or offers the chance to help someone else going through a difficult time.
Sharing lupus journeys can be a powerful way to connect with others and also create a sense of clarity and community. Check out these six men as they talk about their lupus journey.
You can connect with other men with lupus through the Lupus Foundation of America's network of support groups including a support group just for men.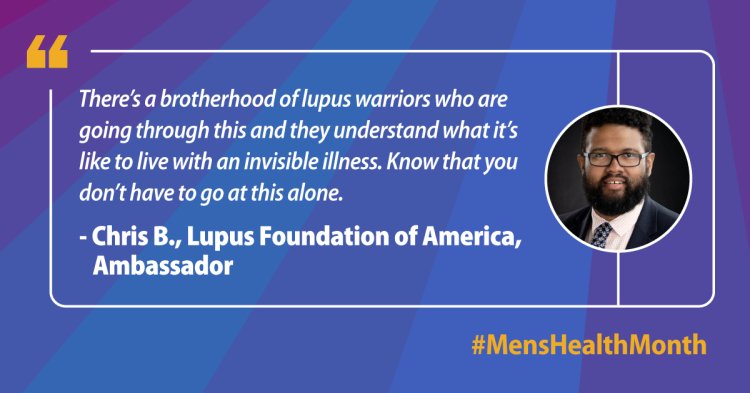 If you or another man in your life is affected by lupus, one of the most effective ways to make a difference is to raise the voice of those with lupus. Patient advocacy goes a long way in moving the needle forward in improving funding for lupus programs and research. Reaching out to policymakers, local or federal, can go a long way in helping raise awareness of lupus, and can also result in substantial change. To get involved with advocacy efforts, click here.
Andre, 17, was diagnosed with lupus seven years ago. He recently participated in the 2023 National Lupus Advocacy Summit to raise awareness of lupus.
If you or someone you know has recently been diagnosed with lupus, check out our resources for lupus and men for more information and answers to frequently asked questions, or share your story to Voices of Lupus, a living collection of personal stories that tell the serious and devastating health effects of lupus, while providing hope and inspiration for all lupus warriors fighting this cruel disease..