News
February 2, 2021
Clock is Ticking – Register Now for the 2021 Digital Lupus Advocacy Summit!
Just one month from today, thousands of lupus advocates from all over the country will be logging into the 2021 Digital Lupus Advocacy Summit, getting their first look at the interactive virtual platform, and preparing for three exciting days of learning, networking, and advocating.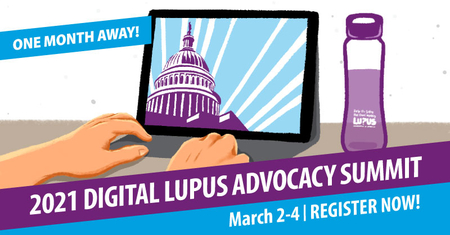 On March 2 and 3, lupus advocates can expect an exciting lineup of activities that will enable them to meet other lupus warriors and hear from the world's leading lupus researchers and physicians about the latest breakthroughs in research and drug development. Moreover, this year's programming will offer more about the services available to help people with lupus navigate their journey with the disease and ensure they have access to the care they need.
On the final day of the Summit, March 4, advocates will also have the opportunity to meet virtually with their members of Congress. For those interested in participating in meetings with members of Congress, you must be registered for the Summit by Monday, February 8. 
Haven't participated in a virtual event like this before, and need more information? Visit our FAQ page and don't miss your chance to be part of the nation's largest lupus advocacy event. Registration is free and open to anyone passionate about the fight against lupus.