News
January 9, 2023
Cardiovascular Disease Incidence and Disparities in People with Lupus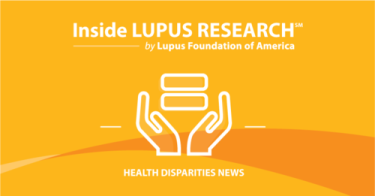 Analysis from a new study reveals racial disparities in incident cardiovascular disease (CVD). The study found that Black people with lupus have a 19-fold higher incidence of developing cardiovascular disease (CVD) during the first 12 years of surveillance than other ethnicities with lupus (7-fold incidence). It also revealed that CVD risk starts early, during the second year after lupus diagnosis, and that discoid lupus (chronic lupus that causes red rash) can predict future CVD events in people with lupus. CVD is a leading cause of death among people with lupus.
Researchers studied records (spanning a 15-year period) of a population-based registry made up of predominantly Black people with lupus (75%) who had a CVD incident. They found that the frequency of CVD events peaked in the second and eleventh year after lupus diagnosis.
Investigators also found a two to seven times higher risk of myocardial infarction (heart attack) and stroke incidence in Black women with lupus under 55 years of age. Independent of race, the researchers found an association between the presence of discoid rash within the first year of diagnosis and CVD. Having a kidney disorder, developing end stage renal disease, and being over 65 years of age at the time of lupus diagnosis, were also strong predictors of CVD incidence.
More research is needed to better understand CVD incidence in people with lupus and to implement and test CVD prevention efforts. Implementing CVD prevention early as well as in late lupus disease course on both a clinical and public health level is important, especially in Black people with lupus. More aggressive screening and management of CVD risk factors to reduce disparities in lupus outcomes is also needed. Learn more about the heart and lupus.
Get Lupus Research Headlines Emailed to You
Interested in getting research like this straight to your inbox? Subscribe to our bimonthly Inside Lupus Research email for all the latest.
Subscribe Now